Touchstone Essentials Launches CBD Oil Sample Program, Enrollments Soar
July 17, 2020
By Team Business For Home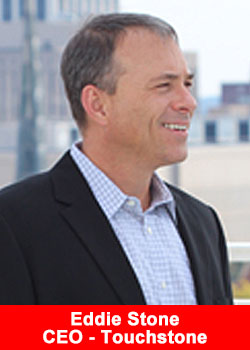 Lifestyle wellness company, Touchstone Essentials has launched a new CBD sampling program that lets people try before they buy, featuring single servings of the best-selling Calm Premium CBD Oil 750mg tincture. According to CEO and Founder Eddie Stone,
"While CBD Oil has numerous long-term benefits, with Calm Premium CBD Oil, many people experience its effects in as little as 30 minutes. That's why even a single serving can give a taste of enhanced well-being and why samples are an ideal way to try CBD."
To make sharing samples even more seamless, Touchstone Essentials has partnered with VERB Technology, a leader in interactive video-based customer relationship management (CRM) marketing applications, to create a special sampling app exclusively for Visionary Business Owners (VBOs).
VBO Leader, A.J. Vock says,
"It has been a great way for people to sample and taste it before they buy a whole bottle, and the app is such an amazing tool to run my business. Absolutely love it!"
For VBOs, the sampling app provides an easy, socially-distancing way to share single-serve samples of Calm CBD Oil with friends, family and contacts. With just a few taps on the phone, sampling sticks are packaged in a branded folder, wrapped in a professional brochure, and shipped to the contact of their choice. Plus, the app is loaded with social content and innovative features that make it easy to share, sample, and strategically grow a business.
VBO Leader, Alan Newell says,
"It is so much more than just a 'free sample app', you can literally build your business from it. I'm using it and loving it."
There's no cost to the sample, just $5.95 to cover shipping and handling. VBOs may choose to have a prospect cover the shipping through a personalized website or they can cover it themselves via sample credits, which can be purchased in bulk for a discount. And the app is free for VBOs. To kick off sampling for new VBOs, up to five free sample credits are posted upon a new VBO joining, depending on their enrollment order with Touchstone Essentials.
 Eddie Stone shared,
"Everyone can benefit from Calm CBD Oil, and with the new sampling program and innovative app that make it easy to share, we're closer than ever to our vision of touching the lives of one million families with goodness."
About Touchstone Essentials
Touchstone Essentials was founded in 2012 by 30-year industry veteran, Eddie Stone, with a vision of making organic goodness accessible to everyone. Shipping to over 60 countries around the world, Touchstone Essentials has been experiencing double-digit growth over the past 3 years.
With the launch of the organic CBD oil line, things have started reaching critical mass. They describe themselves as proud rebels with a cause, offering products for Daily Detox, Organic Superfoods, and CBD. When you join as a VBO, you become a visionary business owner. As a VBO, you're the CEO of your own empire, but you're not alone.
Touchstone Essentials offers an advanced digital marketing system with a trove of resources, all at no additional cost. This includes a TheGoodInside.com e-commerce site, gift card program, sampling program, blog, e-newsletters, and more. For more information visit TheGoodInside.com.