Carolina Cruz & Asdrubal Sanabria Achieve Royal Diamond Rank At BE
August 10, 2020
By Team Business For Home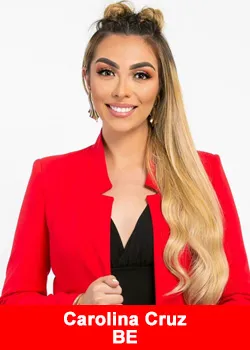 Since joining BE, Carolina and Asdrubal have demonstrated what a real power duo can do, from seizing the Emerald rank just within 12 hours of joining to hitting the Presidential Diamond on their 20th day with BE. Today, they've achieved an incredible feat by moving to Royal Diamond ranking.
To achieve Royal Diamond in BE, one must do revenue of over $1 million sales in their organization in a 4-week cycle in their total organization. Carolina and Asdrubal have surpassed the target and achieved this in a record-breaking time.
Both born and raised in Costa Rica; they used to live dependent on paycheck after paycheck.
At the age of 17, Carolina's life turned upside down when her father was let go from the company he's been with for 30 years. In a snap, her whole family went from living comfortably to being homeless, holding a minimum wage for a family of 4.
Asdrubal, on the other hand, had to work since he was 18 and has taken over as the family's breadwinner following his parent's divorce. In order to support his mother and three siblings, he painted houses, worked on a coffee plantation, and even washed cars to get ahead and help his family.
Their lives changed when they met at a coffee shop for an opportunity that will reshape their odds. From $600 to $1,000 monthly income from their traditional jobs, they shifted to making $1,800 within a month after joining Network Marketing.
History began when these two young people joined with the same vision to help hundreds of people, demonstrating that a partnership could be the best example in the industry.
Today, their story and vision have impacted hundreds of families, aiming to transform their life the same way they experienced.
Here's what Carolina and Asdrubal had to say about their experience working with BE:
"We joined BE for three sole reasons. The leadership, products, and compensation plan. The scope of its technology-based products includes tourism, telecommunications, education, transport, and even financial trading. Their compensation plan is by far the most aggressive we've encountered.

Above all, the ethics, values, and principles of the BE Founders Monir Islam, Moyn Islam, and Ehsaan Islam are what we are looking for for so many years. A company with a leadership that is truly committed to change the lives and lifestyle of millions of people."
On this remarkable milestone, BE founders Monir Islam, Moyn Islam, and Ehsaan Islam couldn't be more excited about this super duo:
"We are super thrilled to see Carolina and Asdrubal reach new heights and to see them become these exemplary individuals within the industry. They are immensely passionate and have the grit to overcome any type of challenges. We believe this is the kind of energy that resonates with BE's values when it comes to making a real difference in people's lives."
As BE is showcasing so many individual accomplishments and remarkable feats as an organization, it'll be interesting to see what comes next for the company and its members.
About BE
BE is a next-generation ecosystem made up of a unique concept of 'Live & Learn' which includes e-learning and travel platforms with a comprehensive set of tools for independent business owners.
The BE ecosystem uses artificial intelligence technology, to offer a decentralized, transparent, and empowering space for people from all walks of life, regardless of their educational or financial background, to build their very own multimillion-dollar business from their smartphone.
For more information, please visit www.befactor.com
Disclaimer: Everyone's results vary and are not typical. Just like with any business, it requires hard work, skillset, and dedication. Someone's results can be exceptional than others. There will undoubtedly be IBPs who will earn less while others will earn much more. be.™️ does not guarantee any level of income or success to any IBP.
Recommended Distributors BE