Juuva Awards $500,000 Earner Rings To 80 Year Old Couple
August 20, 2020
By Team Business For Home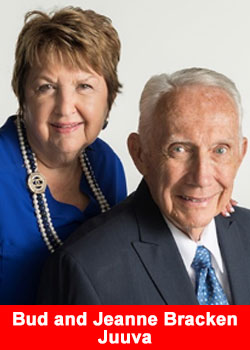 According to a Juuva Press release:
Bud Bracken and Jeanne Bracken received $500,000 Earner Rings at Juuva's just concluded Juuva 20/20 Vision Annual Convention.
This is a great achievement by anyone. But Bud and Jeanne have two things that make them somewhat unique:
They have never been in a networking company before joining Juuva; and
They are both in their 80's.
Congratulations on a fantastic achievement proving yet again that Juuva delivers superb health and incredible income at every stage of life,even in retirement.
Bud and Jeanne Bracken, St. George, Utah, USA stated:
"Juuva products have made us young again. We have the energy and vitality of decades ago. We have options in retirement we never thought possible and financial success we never imagined.

We couldn't have done it without the help of the Summit business training, Juuva corporate and distributor team, and the incredible opportunity that has given us so much.  We now have three generations of six and seven figure earners in our family.  Thank you, Juuva!"
Grant Pace, Co-Founder and CEO stated:
"We are enormously proud of Bud and Jeanne and happy for them. They represent all of the best of the Juuva Opportunity . . . at any age. "
Frankie Kiow, Co-Founder said:
"Juuva was always intended to be more fun, even in retirement.   And watching them is like watching a young couple having fun. Congratulations, Bud and Jeanne. Thank you for letting us be part of your successful Juuva journey."
About Juuva
At Juuva, we know the recipe for a company that lasts, and we're using it to transform lives every day. Juuva was built from the ground up to do things the right way—with integrity, passion and a distributor-focused mindset.
We pay a guaranteed 50% of PV to Distributors weekly. We want our Distributors to be successful because we know they are the key to our mutual success.
Our two co-founders, Grant Pace and Frankie Kiow, possess a wealth of industry experience and expertise and our entire executive team boasts more than 200 years of successful experience with the network marketing space. These individuals set the strategic direction for our company and they will do whatever it takes to provide the finest network marketing opportunity. For more information please visit www.juuva.com
Recommended Distributors Juuva