MLM Leader Antoine McBay Joins QuiAri
August 5, 2020
By Team Business For Home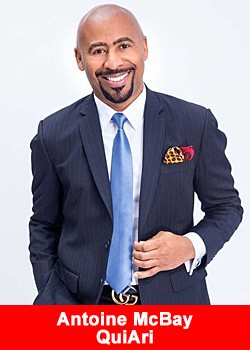 According to an QuiAri press release:
How many people in the MLM industry have a story about "missing out on the big one?" Meaning, they passed up an opportunity to join a company moments before it took off. Antoine McBay, has enjoyed a successful 22-year career in network marketing and takes pride in knowing how to pick winners.
"I don't usually join a company unless I've done my homework – analyzed the compensation plan, tasted the products, met with the leaders. QuiAri was the exception. All of the people I respect in this business were signing up in droves. I didn't hesitate to join,"
stated Antoine McBay.
QuiAri is the #1 health and wellness weight loss movement in the world with products that are helping people transform their lives. Due to massive demand and momentum in India, Africa, Asia, Europe, and Mexico, QuiAri is opening more international offices.
Antoine McBay has been living in Hanoi, Vietnam for the past three years and is excited to see QuiAri products thriving in his country. He learned about QuiAri from his friend, Promoter Lauren York in the U.S., and couldn't wait to try QuiAri Shake and Energy.
"I loved QuiAri from the start and couldn't believe how quickly QuiAri was able to ship products to Vietnam. You can imagine how surprised I was to be drinking a delicious QuiAri Shake less than two weeks after placing my order. My team is exploding worldwide. They are loving QuiAri products and earning Same Day Pay every time they share,"
said Antoine McBay.
QuiAri is the only company in the health and wellness industry that offers Same Day Pay, that's commissions paid in just 5 minutes after each sale. Antoine loves the idea behind Same Day Pay and believes it's a game-changer for the entire global industry.
"I grew up in a low-income area in Dallas, Texas and worked two, sometimes three jobs just trying to provide for my family.  I think the QuiAri opportunity and Same Day Pay is a great way for people to share products they love, climb the ranks,  help fulfill their dreams, and the dreams of others,"
Antoine said the secret to success at QuiAri is being teachable and  follow the steps to success laid out in the 100K Playbook provided to all Promoters.
"It's not magic. There's no hocus pocus to success. It's all about hocus FOCUS. The 100K Playbook was written by our Founder and CEO, Bob Reina, and provides everything you need to know be a top earner in QuiAri. It's brilliant,"
In addition to the 100K Playbook, Founder and CEO, Bob Reina, hosts weekly broadcasts every Thursday to keep Promoters and Customers updated on global expansion,  rank recognition, and more.
"I communicate with my team and Promoters in the field constantly. I always have exciting news to share. From additional compensation plan incentives to new office openings around the world, I want every Promoter to feel both informed and appreciated for all that they do for this company. Strong, ambitious leaders like Antoine McBay are essential to our growth as we become #1 in the health and wellness industry,"
stated Founder and CEO, Bob Reina.
With a bright future ahead of him, Antoine is grateful to be working with Bob Reina and an executive team with a combined 150 years of experience.
"There is so much potential for growth in Vietnam, it's crazy. I can't wait to show the world the impact we're making here on people's lives. I've never seen Promoters so excited about an opportunity before. There's no doubt in my mind we will be the largest health and wellness MLM company in Vietnam by the end of 2020,"
said Antoine McBay.
About QuiAri
QuiAri is the #1 health and weight loss movement in the world today. Featuring exclusive,  breakthrough products (QuiAri Shake and QuiAri Energy) and a one-of-a-kind 90-Day Kickstart Challenge, people everywhere are losing weight, boosting their energy levels, and improving their health. What started as an idea has now become a worldwide phenomenon, gaining a passionate following in over 200 countries. But that's not all! We boast an exciting opportunity that pays people to promote the Challenge.
Featuring industry-first, state-of-the-art payment technology, Promoters can earn Same Day Pay – that's commissions paid within 5 minutes after every sale. Combining unrivaled products with the fastest payout, the fastest cycling binary, and one of the highest paying compensation plans in the industry, there's no doubt QuiAri is helping people live healthier, happier lives. To learn more, please visit quiari.com.
These statements have not been evaluated by the Food and Drug Administration. These products are not intended to diagnose, treat, cure or prevent any disease.
Income Disclosure Statement
Please note the QuiAri business opportunity offers unlimited income potential. However, QuiAri makes no guarantee of financial success. Success with QuiAri results only from successful sales efforts, which require hard work, diligence, skill, persistence, competence, and leadership. Your income will depend upon how well you exercise these qualities.
As QuiAri is in its first year of business operations, we do not have sufficient statistical data to prepare complete, first-year income disclosures. A more detailed survey will be conducted after our first year of business.
Recommended Distributors QuiAri