MLM Leader Dr. Frankie Torreflores Joins QuiAri
August 18, 2020
By Team Business For Home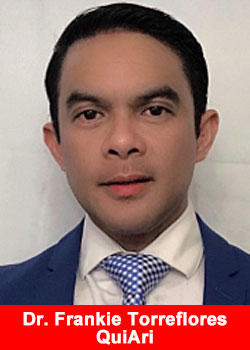 Unlike many MLM professionals, QuiAri Promoter Dr. Frankie Torreflores didn't join the industry looking to for a way to quit his day job. In fact, he loves what he does for a living.
As one of the most well-respected dentists in Los Angeles, California, Frankie spends time with patients and helps them improve dental health. At the end of the day, most would want to kick back and relax, but not Frankie. After hours, he continues giving back by sharing QuiAri products.
"I love helping people improve their health any way possible. I have a "sky is the limit" attitude. I chose QuiAri because it is an exciting and growing global business that can work for anyone, even a busy business professional like myself,"
stated Dr. Frankie Torreflores.
QuiAri is shattering records and has become the fastest growing health and wellness company in the world. With proprietary products, industry-first Same Day Pay (commissions paid within 5 minutes after a sale), and one of the highest paying compensation plans in the industry, professionals like Dr. Torreflores are seizing the opportunity to add another income stream with the QuiAri opportunity.
"I've been in the MLM industry for 10 years now and QuiAri was the first company that really impressed me. I take QuiAri products every day and I'm feeling the results when I'm at the gym. My energy levels immediately go up. When I find a product I like and it works, I want to tell everyone I know. QuiAri's compensation plan is very generous, so getting paid when people take my advice is just icing on the cake," 
Originally from the Philippines, Dr. Torreflores has climbed the ranks quickly by building a large network in the U.S. and internationally. He said sharing QuiAri products hasn't been difficult. Nearly everyone desires weight loss, more energy, and the opportunity to earn more money.
He believes that people can have the potential to be a multi-million-dollar earner as long as they have "consistency, mindset, and discipline."  Dr. Torreflores discovered QuiAri nearly a year ago after reading an article on Business For Home about Founder and CEO, Bob Reina. After looking into the products and opportunity, he found QuiAri to have a simple, yet unique product that aligns with his professional goals.
"Bob Reina's tremendous success and experience as both a network marketer and business owner gives me great confidence in the company. I like that Bob created a system where everyone has the same opportunity for success – a level playing field – where even inexperienced Promoters can become top earners by having the right mindset and following the system,"
said Dr. Frankie Torreflores.
Bob worked tirelessly to create a simple, yet easily duplicatable system that rewards people with the entrepreneurial spirit.
"To see highly educated professionals like Dr. Frankie Torreflores rushing to join QuiAri is exciting. He has clearly reviewed the compensation plan, sampled our products, and taught others to follow the system. It's not surprising to me that he found success promoting QuiAri."
stated Founder and CEO, Bob Reina.
Dr. Torreflores is excited about his future with QuiAri and enjoys the flexibility he needs to be successful both a dentist and QuiAri Promoter.
Frankie stated:
"Sometimes it feels like QuiAri was built just for me.  I have state-of-the-art resources, like a free mobile app that allows me to promote from anywhere and plenty of time freedom to promote around my schedule. Everything I need is readily available. Plus, the company is growing larger every day and expanding into new markets all over the world. It's exciting to think about what my QuiAri business will look like in the next year or so,"
About QuiAri
QuiAri is the #1 health and weight loss movement in the world today. Featuring exclusive, breakthrough products (QuiAri Shake and QuiAri Energy) and a one-of-a-kind 90-Day Kickstart Challenge, people everywhere are losing weight, boosting their energy levels, and improving their health. What started as an idea has now become a worldwide phenomenon, gaining a passionate following in over 200 countries.
But that's not all! We boast an exciting opportunity that pays people to promote the Challenge. Featuring industry-first, state-of-the-art payment technology, Promoters can earn Same Day Pay – that's commissions paid within 5 minutes after every sale. Combining unrivaled products with the fastest payout, the fastest cycling binary, and one of the highest paying compensation plans in the industry, there's no doubt QuiAri is helping people live healthier, happier lives. To learn more, please visit quiari.com.
These statements have not been evaluated by the Food and Drug Administration. These products are not intended to diagnose, treat, cure or prevent any disease.
Income Disclosure Statement
Please note the QuiAri business opportunity offers unlimited income potential. However, QuiAri makes no guarantee of financial success. Success with QuiAri results only from successful sales efforts, which require hard work, diligence, skill, persistence, competence, and leadership. Your income will depend upon how well you exercise these qualities.
As QuiAri is in its first year of business operations, we do not have sufficient statistical data to prepare complete, first-year income disclosures. A more detailed survey will be conducted after our first year of business.
Recommended Distributors QuiAri