Rain International Seeds For Change Foundation Gives Back
August 7, 2020
By Team Business For Home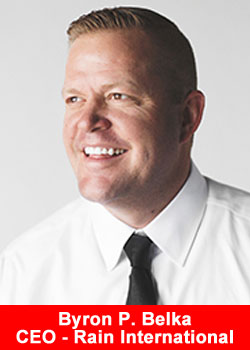 According to a Rain International & Seeds For Change Foundation press release:
By now, the COVID pandemic has managed to reach virtually every corner of our planet (shout out to flat earthers). It's effects on many people's lives has been, and will be, catastrophic. Among the many insidious impacts of COVID-19 is its effect on the global fight against poverty.
The world food program predicts a doubling of acute hunger by the end of 2020. That's an estimated 270 million people each day going to bed hungry. COVID has increased unemployment, with global economic projections forecasting that it could push an additional 70 million people into extreme poverty. And as with most crises, recessions, and pandemics — those disproportionately affected by these statistics will be concentrated across neighborhoods, communities, and countries already struggling with high poverty rates and economic and social instability.
In order to combat this situation, we have employed a phased strategy to help people and communities sustain through immediate basic needs support, to recover through long-term, sustainable solutions, and finally, as outlined in our mission, to thrive together.
Phase 1: Basic Needs Support
As we have navigated through this global crisis, Seeds for Change Foundation has taken an active role in providing basic needs assistance to the most vulnerable in our world. Even before the pandemic hit, we look back with gratitude that we were able to provide seeds for over 500 families in India to regrow their crops after they were destroyed in devastating monsoon flash floods.
This food security has carried these families through the proceeding economic downturn with food on their table and spare crops to sell. Close to our home headquarters, as the elderly population was shown to be the hardest hit by the pandemic, we provided support for over 1,000 meals to be delivered to homebound elderly in Utah. We sent support to our artisan partners in Uganda to have food and sanitation supplies during their stay at home orders, and provided support to employ refugee women in Utah to sew masks to give out free of charge to the local refugee community.
Phase 2: Sustainable Recovery
Now as economies are beginning to open, our focus has shifted to providing sustainable solutions to help people recover and rebuild. Our artisan partners in Uganda- the women of Mabira Collective- are now returning to the workshop that Rain and Seeds for Change constructed. One of their greatest needs to be able to more consistently carry on their artisan craft is electricity. While we originally connected their workshop to the local power grid, this is currently very inconsistent, with power outages happening multiple times a week, sometimes lasting for days at a time.
In order to be able to consistently continue their work, we are providing a commercial-grade generator to bring light and power to the workshop at all hours of the day. Through this support, we look forward to seeing their artisan craft pick up again, enabling them to have the dignity to provide food, a safe home, and education to their own children. When we first started working together with Mabira, they were employing 20 women, and now through our investment in their program, they are currently employing over 250 women.
For those of you that remember Summit last year, each attendee received a "Sewn by a Survivor" conference tote bag. These were made by our partners at Raksha Nepal, a shelter in Kathmandu for women and girls who have been rescued from sexual exploitation and trafficking. Currently, one of their greatest needs during this crisis is food supply for the 70 girls living at their shelter as they receive trauma support and rehabilitation. We are providing funding for them to expand their organic garden to be able to meet the daily nutrition needs while looking after the needs of so many children in their care.
Phase 3: Seeds of Service
Stay tuned as we engage Rain partners around the globe in launching our Seeds of Service campaign later this month. We will be highlighting the good that Rain partners are doing as they truly live out our company values of giving back in their families, teams, and communities.
About Rain International
Rain International is the original creator of seed-based nutrition. Our experts have gone to the source of plant nutrition to formulate products proven to support healthy lives.
Rain International is more than the products we sell. From the beginning, we set out to make changes to improve the world around us starting with the health industry and moving beyond its borders into global sustainability, education initiatives, elevated lifestyles, and more. We believe that the ultimate human experience we all crave is within everyone's reach, and we don't mind leading the way. For more info please visit www.rainintl.com.
Recommended Distributors Rain International