BE Welcomes Its New Executive Vice President José Ardon
September 15, 2020
By Team Business For Home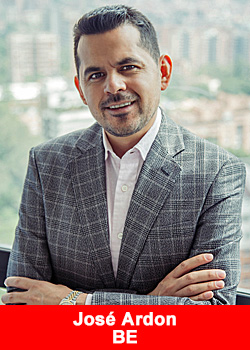 Life doesn't get better by chance; it gets better by change. BE, a technology company, is changing the lives of thousands by providing a global digital platform for everyone, regardless of background, skill-set and experience, to live their dream lifestyle.
Through its powerful tools and innovative AI-based digital solutions on e-learning, fintech and online travel, BE has been disrupting the tech industry and transforming lives.  Today, BE is delighted to add another invaluable member to its community with José Ardon as its Executive Vice President.
José Ardon is a young entrepreneur from Latin America with big dreams and a visionary approach of contributing to society. He started his journey with BE in the year 2019 from lowest rank just like everybody else.
But with an extensive experience of 15 years in the network marketing sector, and sheer excellence he has rapidly grown within the BE community. He has had a distinguished career serving various responsibilities within the organization and also contributing to its dynamic growth.
His journey began as a youngster chasing the "American Dream" by travelling to the USA over a period of six months all through the desert. After jumping from job to job, José was introduced to the network marketing industry. From there on, he accomplished one goal after another, that he set for himself. He is a passionate networker, a skilled entrepreneur and a genuine leader who inspired thousands of others in the industry.
Success is a continuous process. By following his unique 3Ds' strategy of Determination, Dedication and Diligence, he could achieve feats which few could only dream of. At BE, he acquired this prestigious position in a short span of time.
Moving Towards A Bigger Vision
José Ardon's vision took up a new shape when he started working with the BE Founders and brother, Moyn Islam, Monir Islam and Ehsaan Islam. He soon became a part of their dream of offering a prolific opportunity to people from all walks of life to help them build a business from their smartphones.
José says,
"I was awestruck learning about the magnitude of their vision and what was possible with BE. All I wanted to do immediately was become part of their vision and make it my vision as well. I know for a fact that my achievement is only the beginning compared to what we are going to achieve for BE's 2022 vision on becoming the fastest company to pay 1 billion dollars as a commission."
The greatness of leaders is testified by the capable successors they foster. BE founders, Monir Islam, Moyn Islam and Ehsaan Islam too expressed their joy about José's latest achievement:
"We are so excited to see José achieve new heights and set a perfect example for so many people within the industry across the world. He comes with such an undeniable passion and grit to make things happen, no matter what. That's the kind of energy that resonates with BE's sentiments when it comes to impacting people's lives."
About BE
BE is a next-generation ecosystem made up of a unique concept of 'Live & Learn' which includes e-learning and travel platforms with a comprehensive set of tools for independent business owners.
The BE ecosystem uses artificial intelligence technology, to offer a decentralized, transparent, and empowering space for people from all walks of life, regardless of their educational or financial background, to build their very own multimillion-dollar business from their smartphone.
For more information, please visit www.befactor.com
Disclaimer: Everyone's results vary and are not typical. Just like with any business, it requires hard work, skillset, and dedication. Someone's results can be exceptional than others. There will undoubtedly be IBPs who will earn less while others will earn much more. be.™️ does not guarantee any level of income or success to any IBP.
Recommended Distributors BE