Industry Icons Dirc and Sabine Zahlmann Join Zinzino
September 16, 2020
By Team Business For Home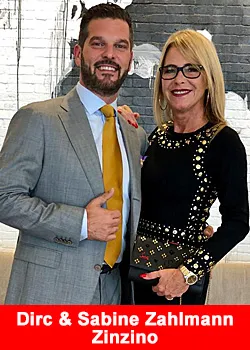 Industry momentum drivers Sabine & Dirc Zahlmann announced to join Zinzino.
Sabine & Dirc Zahlmann, founder of the iconic Zahlmann Consulting group, have decades of experience working with fortune 50 companies both in and out of the direct selling industry.
They stated:
"After being in this industry for more than 25 years and heading our successful international consulting group for 15 years we showed what can be done as a sales field developer.

We build up sales structures like a family and want to bring a long term home to the leaders in our industry. This industry is experiencing a massive growth right now and all people who engage actively should see a positive result out of it"
Why did you join Zinzino?
"After our last project we planned on putting all our efforts on launching our Zahlmann Online Academy and our successful consulting group again. But the field and some world wide leaders convinced us to dedicate again to build up again as sales field leaders. So we started to have a look at some companies that based on our criteria were worth it to invest our effort in building a home for many leaders. We were overwhelmed by the companies that contacted us.
So we were searching for a perfect combination out of a proven product, reliable systems, a well paying and balanced compensation plan and a company with a field loving ownership. After analyzing a lot of amazing companies the perfect combination was Zinzino.
The ownership are Network Marketing professionals, the company is the product leader in a proven test based nutrition with a market size of billions with the Omega3 oil alone, the company has a very high paying compensation plan, reliable backoffice and service structures, is public traded and is just about to an international exposure.
So many positive points coming together and we are leading the massive momentum with our Zinzino lions team into the new markets of Asia, USA and the existing European markets. The perfect timing to create worldwide momentum for a company that has already growing double digits every year to a 100 Mill Euro company without that international exposure."
We will create a family culture with our teams again and dedicate our energy and time to build out massive teams in several continents parallel.
Get tested and get in balance – 95 % of the population need this one product alone and that is based on more than 600,000 tests from the independent laboratory Vitas alone.
It is a huge global market potential and with Zinzino we can build up millions of happy customers, because a blood test cannot lie. Once you see your results and that the product has an effect you will stay with it for a long time. 300,000 customers already have proven the sustainability of it.
On top the options of a money back guarantee and product for free attracts a lot of customers and shows the confidence of Zinzino in their products.
We are happy to move fast and manifest this message in the world – get tested and get in balance. Many successful leaders already joined our Zinzino Lions family and we are ready to support many more to come.
And the next step of product innovations are already waiting in line and we are happy that our ideas are welcome by the management and ownership.
ABOUT ZINZINO
Headquartered in Gothenburg, Sweden, Zinzino is a direct-sales health and wellness company, focusing on long-term prosperity through its signature Balance Oil range and skincare products. The company also owns Bioactie Foods.
Zinzino operates throughout Europe, North America and, as of next month, Australia. Zinzino have over 120 employees worldwide, with offices in Sweden, Latvia, Norway, USA and Australia. For more information please visit www.zinzino.com
Recommended Distributors Zinzino