MELiUS Rebrands To BE
September 11, 2020
By Team Business For Home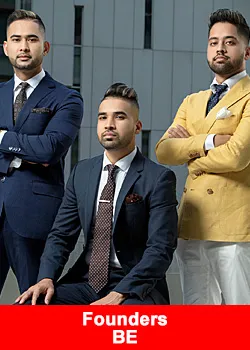 Time and again, it's proven that those who dared to dream, and those who believed in their potential amid numerous challenges in life are the ones who ultimately reached the pinnacle of success.
The story of three brothers, Moyn Islam, Monir Islam and Ehsaan Islam rightly testifies this fact.
Think big, dream and create your destiny—this is what the young entrepreneurs and brothers believe and follow. With the digital transformations overtaking the world, Monir, Moyn and Ehsaan built multiple online platforms to empower people from all walks of life, and called it MELiUS.
Today, they've expanded their innovations across various industries, and with a brand new outlook in the artificial intelligence front, MELiUS is rebranded as BE.
BE your Best!
As the name, the company BE too is unique in its purpose. Based on a visionary approach to empower people. BE's business idea revolves around a unique concept – Live and Learn. The real power of technology is utilized when it facilitates progress, development to change the lives of people. Belonging to a humble background, their sensitivity and their initial phase of struggles in life compelled them to think something out of the rut-something that helps people to nurture their capabilities, gain financial independence and enjoy life to the optimum level. Focusing on improving people's lives, they brought in innovative ideas and harnessed it with advanced technologies like Artificial Intelligence.
BE's new brand identity stands for everything which makes life better through digital innovation. It holds the power to be bold, to be brave, to be inspired, to be motivated, to be free and to be unique. The brand identity is so powerful that it grasps the crux of the business values. It's got the personality that speaks to its customer, the sentiments of their beliefs, and provides the loyalty they continuously yearns to achieve.
Backed by a transformative ecosystem, they have developed an exclusive e-learning platform, a cutting-edge online travel club and intelligent trading software. Combined with multi-level marketing and wide acceptance, the growth skyrocketed. It allowed many people, irrespective of their skill sets, background and experience to do business from their smartphones while living life to the best.
Their travel platform which goes beyond just booking a holiday; it allows people to experience the world with up to 70% discount compared to any public aggregator. The platform holds 1.2 million hotels and partnered with some of the biggest brands in flights, cruises and VIP airport lounges as well as with over 50,000+ car rental locations from around the world.
The e-learning platform brings a world of learning resources and instructions for people to upgrade their skills as well as lives in meaningful ways. The platform is a new-age catalyst that suits not just working professionals but also for students in schools and universities.
The live streaming platform that can facilitate up to 1 million users concurrently. It offers various content available in multiple languages as well as geolocated to its user's region or country. This platform is created with a vision to educate and empower people from falling prey to scams and empower them with the right information.
Shape up your life by learning new skills and also exploring the world. Be the master of your mind and rule the world on your own terms. BE is here to help you in your aspiration! Find out more on BE here.
About BE
BE is a next-generation ecosystem made up of a unique concept of 'Live & Learn' which includes e-learning and travel platforms with a comprehensive set of tools for independent business owners.
The BE ecosystem uses artificial intelligence technology, to offer a decentralized, transparent, and empowering space for people from all walks of life, regardless of their educational or financial background, to build their very own multimillion-dollar business from their smartphone.
For more information, please visit www.befactor.com
Disclaimer: Everyone's results vary and are not typical. Just like with any business, it requires hard work, skillset, and dedication. Someone's results can be exceptional than others. There will undoubtedly be IBPs who will earn less while others will earn much more. be.™️ does not guarantee any level of income or success to any IBP.
Recommended Distributors BE