MLM Leaders Julia And Boris Krymoff Join QuiAri
September 1, 2020
By Team Business For Home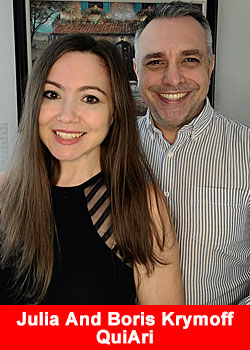 If you want to keep up with QuiAri Promoter, Julia Krymoff, you need a lot of energy.
Originally from Perm, Russia, Julia is a natural-born go-getter. At just 22 years old, she  graduated from law school with honors and immediately landed a great job at an international bank. After 6 months in the corporate world, Julia realized she wanted more out of life.
The boring 9-to-5 daily grind just wasn't for her. A friend introduced her to the network marketing industry. She fell in love with the business right away – and coincidentally also fell in love with her Sponsor, Boris Krymoff, who was from Ukraine.
"Boris and I spent 10 years building teams throughout Russia and the Ukraine. We were just 22 years old at the time and traveling the world, earning money, and helping people.

We were doing a ton of business in the United States and decided to move to Florida. Now, 20 years later, we can't imagine being anywhere else. It led us to the biggest opportunity in the entire MLM industry – QuiAri,"
stated Promoter Julia Krymoff.
The QuiAri opportunity came at the perfect time for Julia. She took a short break from the MLM industry when she and Boris decided to have children.  When Julia was ready to re-enter the workforce, 100K Promoters, Minh and Julie Ho, introduced them to the opportunity of a lifetime.
"When Minh told us Bob Reina was the Founder and CEO, we signed up immediately in pre-launch. If there is one person who has the expertise and resources to build a multi-billion-dollar brand, it's Bob.

I was looking for a way to lose the baby weight, so naturally I was curious about the products. QuiAri Shake and Energy were exactly what I needed. Not only did I lose weight, but the products made me look and feel 10 years younger. Boris kept calling me the Energizer Bunny – I was always on the go,"
said Julia Krymoff.
Founder and CEO, Bob Reina is the first to bring the new #1 superfruit, the maqui berry, to global markets. Found only in the pristine mountains of the Patagonian region of Chile, the maqui berry is considered sacred by the Mapuche Indians for its countless healthy benefits.
Bob could have stopped there, but instead collaborated with the #1 maqui berry scientist to create MaquiX®, a super-concentrated organic extract that boosts the antioxidant power of the berry even further.
Bob then assembled a dream team consisting of top MLM leaders with over 150 years of experience, the #1 maqui berry scientist, Dr. Juan Hancke, award-winning marketing and I.T. professionals, and global expansion experts.
"QuiAri products are unlike anything the industry has ever seen before. That's why we are the fastest growing global home-based business opportunity in the world. Experienced network marketers, like Julia and Boris, who have been with QuiAri from the very beginning have seen our massive growth.

We started with just one office in Brandon, Florida and now have 11 international offices with more on the way. QuiAri has shattered nearly every MLM industry record in the books. While most companies take months or years to scale up their business, we can do it in just weeks, with paying promoters in 5 minutes worldwide"
stated Founder and CEO, Bob Reina.
Julia is an avid social media user and has embraced all of the most popular platforms to help build her network. She regularly posts content about her QuiAri business on popular platforms like TikTok, Instagram, and Twitter.
"Bob is a progressive CEO. He understands the power of social media and encourages everyone to learn how to use it to build their network. For Boris and I, it has opened up so many opportunities for us to promote in other countries. I'm connecting with friends of friends and helping them improve their lives.

Even if we don't speak the same language, QuiAri has resources, such as marketing materials and live presentations translated into 6 different languages, that make duplication possible across different cultures,"
said Julia Krymoff.
In the last 10 months, top industry earners have joined QuiAri and are inviting their teams to follow them. Many believe the opportunity is just too good to ignore. Bob Reina has revolutionized the industry by becoming the first company in the health and wellness industry to pay Promoters within 5 minutes after making a sale (Same Day Pay). In addition to Same Day Pay, QuiAri has the fastest cycling binary in the industry, and offers one of the highest paying compensation plans.
"There is a definite need in this industry for Same Day Pay. Getting paid in 5 minutes after a sale gives Promoters confidence in the company and in the opportunity."  said Julia Krymoff.
 Julia appreciates more than the financial benefit of her efforts, but also the flexibility QuiAri provides. She can do more with her kids without the fear of neglecting her business. One of the benefits of being a QuiAri Promoter is the ability to work anywhere in the world.
"Using the QuiAri mobile app all I need is an internet connection and I have access to my entire business. We booked a Disney cruise in 2021 and I can relax and enjoy time with my family while keeping the momentum going with the business. I'll even get a "cha-ching" alert on my phone every time I get paid."  
Their ultimate goal is to help QuiAri become the most successful company in MLM history and become top-earners in the company.
"The more success we have, the more opportunities we can provide for our children. I can't wait to see how big QuiAri will be by the time they become adults. Who knows? Maybe they will also become QuiAri Promoters and secure a future for our grandchildren."
About QuiAri
QuiAri is the #1 health and weight loss movement in the world today. Featuring exclusive, breakthrough products (QuiAri Shake and QuiAri Energy) and a one-of-a-kind 90-Day Kickstart Challenge, people everywhere are losing weight, boosting their energy levels, and improving their health. What started as an idea has now become a worldwide phenomenon, gaining a passionate following in over 200 countries.
But that's not all! We boast an exciting opportunity that pays people to promote the Challenge. Featuring industry-first, state-of-the-art payment technology, Promoters can earn Same Day Pay – that's commissions paid within 5 minutes after every sale. Combining unrivaled products with the fastest payout, the fastest cycling binary, and one of the highest paying compensation plans in the industry, there's no doubt QuiAri is helping people live healthier, happier lives. To learn more, please visit quiari.com.
These statements have not been evaluated by the Food and Drug Administration. These products are not intended to diagnose, treat, cure or prevent any disease.
Income Disclosure Statement
Please note the QuiAri business opportunity offers unlimited income potential. However, QuiAri makes no guarantee of financial success. Success with QuiAri results only from successful sales efforts, which require hard work, diligence, skill, persistence, competence, and leadership. Your income will depend upon how well you exercise these qualities.
As QuiAri is in its first year of business operations, we do not have sufficient statistical data to prepare complete, first-year income disclosures. A more detailed survey will be conducted after our first year of business.
Recommended Distributors QuiAri