QuiAri Celebrates Their First Year In Business
September 30, 2020
By Team Business For Home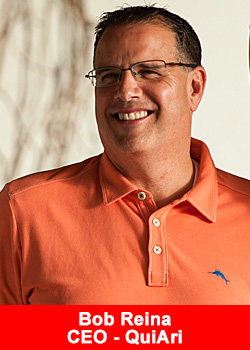 In 2019, over 6.5 million new businesses were founded around the world, however there was only one company that outshined and outperformed them all – QuiAri.
Founded last October by industry icon, Bob Reina, QuiAri took over as the new #1 Global Business Opportunity with the Fastest Payout in the Industry (5 Minutes) paired with the new #1 superfruit, Maqui. While most companies wait years to scale up their business, QuiAri launched immediately in over 200 countries with 12 Global Offices and counting. No MLM company in industry history has ever launched with such an ambitious global expansion plan, but since Bob has the belief, confidence, and work ethic, there was no doubt QuiAri would be successful.
"When I first learned about the extraordinary health benefits of the Maqui berry, the world's new #1 superfruit, I had to find a way to share it with the world. The Mapuche Indians have known about its extraordinary health benefits for centuries, yet no one had ever introduced it to the global marketplace.

I met with the world's leading Maqui berry scientist, Dr. Juan Hancke to collaborate on taking the extreme antioxidant power of the berry to the next level,"
stated QuiAri Founder and CEO, Bob Reina.
Their collaboration led to a scientific breakthrough – a proprietary extract called MaquiX® which boosts the antioxidant power of the berry even further. One year later, the results from QuiAri Shake and QuiAri Energy have proven to be the #1 in MLM history. People all over the world are falling in love at first taste and sharing their stories of how QuiAri products changed their lifestyle. Unlike many healthy shakes with gritty or chalky aftertastes, QuiAri Promoters and Customers love the smooth, bold flavor. Some customers have compared the taste of the vanilla QuiAri Shake to birthday cake.
Once Bob perfected the products, he didn't stop there. He put together a revolutionary support system that took QuiAri all the way to #1.
"I assembled a team of global health and wellness experts, top industry earners, world-class marketers, award-winning cinematographers, and brilliant I.T. professionals to help launch QuiAri. We broke down the traditional MLM business model and started fresh. Everything from technology to compensation – I wanted nothing but the best of the best. There is only room for one #1 and we're it,"
said Bob Reina.
Bob made waves by launching with industry-first Instant Pay, that's commissions paid within 5-minutes of each sale, a state-of-the-art Back Office and mobile app, and generous incentives that are among the highest paying in the industry. Throughout the year, network marketing leaders have seen QuiAri's momentum soar to the top.
Anyone that hasn't already joined is rushing to get in as sales continue to climb, smashing records month after month. Bob is laser-focused on expanding the company's global footprint. There are currently 12+ international offices located around the world with shipping and commissions being paid in over 200 countries worldwide.
QuiAri's long list of record-breaking achievements is the biggest flex on the industry:
#1 Global Business Opportunity
#1 Fastest payout in the industry (5 minutes)
#1 Multi-billion dollar management team & support
#1 Fastest-cycling binary in the industry
#1 Fastest-growing social media
#1 Superfruit
#1 Products
#1 Maqui Scientist
#1 Infrastructure
#1 Founder & CEO
#1 Global Footprint
#1 Industry Momentum
#1 Marketing
"I'm extremely proud of everything the QuiAri family has accomplished this year.  We have more surprises in store for our global markets in 2021, like traveling to Patagonia, the home of the Maqui berry,"
said Bob Reina.
*Maqui supports and promotes
Healthy Weight Loss
Increased Energy Levels
A Healthy Inflammatory Response
A Stronger Immune System
Healthy Blood Sugar Levels
Healthy Aging
Total Body Cleansing
Healthier Skin
Ocular (Eye) Health
A Healthy Cardiovascular System
Industry experts have no doubt QuiAri will continue dominating the world. Momentum is strong and QuiAri plans to stay at the top and continue rising.
"QuiAri products helped improve my own health. I lost 25 pounds and have plenty of energy to take this company to multi-billion-dollar earnings. Mark my words – next year is going to be even better than the first. Whoop whoop,"
said Bob Reina.
About QuiAri
QuiAri is the #1 health and weight loss movement in the world today. Featuring exclusive, breakthrough products (QuiAri Shake and QuiAri Energy) featuring the world's new #1 superfruit, the Maqui berry, people everywhere are losing weight, boosting their energy levels, and improving their health. What started as an idea has now become a worldwide phenomenon, gaining a passionate following in over 200 countries.
But that's not all! We boast an exciting opportunity to promote QuiAri products and earn commissions within 5 minutes after each sale through industry-first, state-of-the-art payment technology. Combining unrivaled products with the fastest payout, the fastest cycling binary, and one of the highest paying compensation plans in the industry, there's no doubt QuiAri is helping people live healthier, happier lives. To learn more, about QuiAri, their products and the opportunity to become a Promoter, please visit quiari.com, or follow them on social media @QuiAriOfficial.
*These statements have not been evaluated by the Food and Drug Administration. These products are not intended to diagnose, treat, cure or prevent any disease.
Income Disclosure Statement
Please note the QuiAri business opportunity offers unlimited income potential. However, QuiAri makes no guarantee of financial success. Success with QuiAri results only from successful sales efforts, which require hard work, diligence, skill, and persistence.
Recommended Distributors QuiAri