Sergei Kulikov CEO Of APL GO Launches The USA Market
September 21, 2020
By Team Business For Home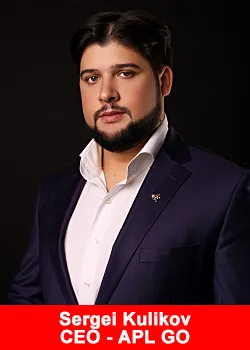 Sergei Kulikov is a unique owner. He has an incredible amount of energy and he likes people.
He has an incredible amount of energy and he enjoys helping people reach their goals.
As a 17 year-old distributor, he built a successful global team of 11,000 distributors with an accomplished USA based company. That company soon sold its ownership which resulted in many leaders leaving including Sergei. At 21, he made his first million by selling real estate in Europe.
By age 24 Sergei had amassed a small fortune and was introduced to a unique product that infuses various plant DNA into a small molasses drops, which are then charged through a proprietary technology called ACUMULLIT SA.
The science was solid with measurable results and Sergei knew this product would change the world. Within a week's time he met with the scientific team, discussed its unlimited global potential and purchased the technology. More importantly, Sergei fulfilled one of his lifetime dreams to start a company in an industry he loves, while bringing something new to the marketplace.
His love for people is evident in the culture of APLGO where adventures, cruises, and themed events are commonplace.  As a skilled Illusionists, Sergei rivals some of the top magicians in the world and loves to entertain enthusiastic audiences with APLGO. Sergei is dedicated to fulfil the responsibility of serving customers with outstanding and delicious products and Associates with a legitimate business opportunity.
APL GO key figures:
APL GO Eastern European Division: 8.5 years old
$250 million in total sales, $87 million 2019
MLM momentum Rank #24
14 Global facilities
Ownership: Sergei Kulikov and Olga Kulikova
Investors: No
Product Line:  Anion Accumulated DNA Drops (Category creator) 100% natural, Halal and Kosher certified, FSA Registered
Product Pricing: $25 wholesale/ $50 retail
Production Capacity; 100K boxes in 2 8-hour shifts (APL GO owns manufacturing facility ISO 22000 and ISO 9001 certified) FDA registered
Min PV Requirement: 40 PV
Compensation Plan: Prime Hybrid 9 (Global seamless)
Compensation Plan payout (63% on the dollar)
Established Markets:  Russia, Bulgaria, Germany, Moldova, Belarus, Kazakhstan, Uzbekistan, Kyrgyzstan, Tajikistan, Ukraine, Cypress
New Markets (Whisper launch); USA, Canada, Israel, Australia, Western Europe, Asia, Mexico, Peru
Sergei and his wife Olga Kulikova are the foundation of APLGO. They met in network-marketing. He chuckles as he recalled that they were not supposed to date because she was in his downline and the company had rules regarding this.
Olga's influence can be seen in the beautiful branding of the products, and other marketing materials. They put a lot into building a foundation that would last including making sure product claims are compliant.
Sergei's goal is to produce 20 – $1 Million per month earners in the next year and a half. With amazing and unique products that taste great, low global price points as well as a low 40 PV monthly requirements, this is certainly possible. Sergei often says that networking runs in his veins and we certainly agree.
About APL GO
Our corporate team will lead you to financial well-being. We will show you the world in our travels and help you succeed. The founder of the company is a successful, international network marketing leader. Our Corporate team is made up of professional and experienced managers. Our head office consists of a huge team with six departments and sixteen divisions. We work with the best leaders in the industry to ensure every aspect of the business is covered.
We create a positive atmosphere for every employee and treat our customers with respect. Founder and CEO Sergey Kulikov made his first $1,000,000 at 21 years of age. He is the author of an online educational platform used within APLGO since 2014 that tracks and manages Associate efficiency. For more information please visit us.aplgo.com
Recommended Distributors APLGO