Top Leader Dr. Anju Meena From India Joins QuiAri
September 10, 2020
By Team Business For Home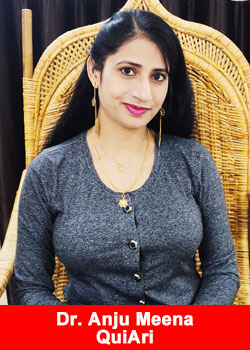 You could say that QuiAri Promoter Dr. Anju Meena from Rajasthan, India is an expert in identifying businesses with the right "formula for success"
After all, Dr. Meena holds a Ph.D in Chemistry from the prestigious Dr. Bhimrao Ambedkar University. The buzz surrounding QuiAri, the fastest growing global health and wellness company, simply cannot be ignored.
"QuiAri has all of the elements necessary to become a multi-billion dollar company: The #1 health and wellness products in the world with the world's #1 superfruit, and the #1 fastest paying compensation plan in the industry.

I also believe the products are the best-tasting nutritional supplements on the market. I'm glad I didn't wait to join. I've been able to help so many people already and I'm just getting started,"
stated Dr. Anju Meena.
Dr. Meena dedicates the majority of her time to helping people, specifically women and children in rural areas of India that desperately need to improve their health and education. In fact, she runs a non-profit organization (NGO: non-government organization) with her husband. They donate nearly all of their income towards their foundation.
"It's called the Smile India Foundation and our ultimate goal is to help millions of people in India not just get healthy, but maintain their health over the long-term. I chose to be a QuiAri Promoter because everything about the company is the best of the best. The quality of the products, the fact that they are the only company in the world introducing the Maqui berry to the global marketplace, and the passionate leaders with over 150+ years of combined experience that have our backs. My confidence in the company couldn't be higher,"
stated Dr. Meena.
While QuiAri isn't the first MLM Dr. Meena has ever been a part of, she predicts it will  be her last. In addition to the power of Maqui and MaquiX® (QuiAri's proprietary Maqui extract), all products include a scientific blend of Greens, 24 essential vitamins and minerals, an exclusive Green Tea Extract, and more healthy ingredients that nourish the body.
"After taking QuiAri Shake and Energy, I personally experienced more energy, I was happier, felt less stress and even somehow felt lighter. I didn't expect to experience such dramatic results, because I felt my mind and body were already in good balance, but it really made a difference." 
QuiAri products, along with the rich history of the Maqui berry, are reaching all corners of the globe thanks to many motivated Promoters and the efforts of Founder and CEO of QuiAri, Bob Reina. Bob discovered the incredible health benefits of the Maqui berry years ago and has collaborated with industry experts, including the #1 Maqui berry scientist in the world, Dr. Juan Hancke, to bring QuiAri to life. As it approaches the end of its first year in business, Bob has introduced the products and opportunity to over 200 countries worldwide.
"These Maqui berries can only be found deep in the mountains of Patagonia, one of the cleanest places on Earth. It is by no means an easy process to harvest the berries and deliver them to the processing plant, but the incredible health benefits make it all worthwhile.

I'm proud of the work Dr. Meena is doing to help others in India achieve better health and I hope our products continue to support her cause.  When combined with the generous QuiAri opportunity and our industry-first Same Day Pay, we are impacting lives in ways that no other company in the world can,"
stated Founder and CEO, Bob Reina.
QuiAri has one of the highest paying Compensation Plans in the industry with the fastest cycling binary system and the fastest paying – within 5 minutes of each sale. Anyone can become a QuiAri Promoter and start earning right away.
"The people I help need an opportunity to earn money right away. QuiAri is the only health and wellness company that can help them do that. Plus, starting from day 1, you have state-of-the-art resources to help build your business globally. I think the freedom and flexibility of the QuiAri opportunity is what most people really need in their life right now,"
said Dr. Anju Meena.
Dr. Meena is looking forward to helping more women and children in India and the rest of the world grow their QuiAri business and become top MLM industry earners.

"I would love to see all of the women I've helped rise up through the ranks and become top MLM earners. I'm incredibly grateful to have connected with QuiAri. As the business grows, the potential to help more people around the world is unlimited. It just doesn't get any better than that,"
stated Dr. Anju Meena.
About QuiAri
QuiAri is the #1 health and weight loss movement in the world today. Featuring exclusive, breakthrough products (QuiAri Shake and QuiAri Energy) and a one-of-a-kind 90-Day Kickstart Challenge, people everywhere are losing weight, boosting their energy levels, and improving their health. What started as an idea has now become a worldwide phenomenon, gaining a passionate following in over 200 countries.
But that's not all! We boast an exciting opportunity that pays people to promote the Challenge. Featuring industry-first, state-of-the-art payment technology, Promoters can earn Same Day Pay – that's commissions paid within 5 minutes after every sale. Combining unrivaled products with the fastest payout, the fastest cycling binary, and one of the highest paying compensation plans in the industry, there's no doubt QuiAri is helping people live healthier, happier lives. To learn more, please visit quiari.com.
These statements have not been evaluated by the Food and Drug Administration. These products are not intended to diagnose, treat, cure or prevent any disease.
Income Disclosure Statement
Please note the QuiAri business opportunity offers unlimited income potential. However, QuiAri makes no guarantee of financial success. Success with QuiAri results only from successful sales efforts, which require hard work, diligence, skill, persistence, competence, and leadership. Your income will depend upon how well you exercise these qualities.
As QuiAri is in its first year of business operations, we do not have sufficient statistical data to prepare complete, first-year income disclosures. A more detailed survey will be conducted after our first year of business.
Recommended Distributors QuiAri