Juuva Awards Six More $100,000 Rings
October 21, 2020
By Team Business For Home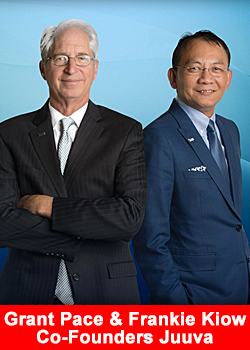 According to a JUUVA press release:
Juuva recognizes six additional $100,000 USD earners with a stunning Juuva $100,000 Ring.
"Wear it with Juuva pride." Said Chairman Grant Pace as he presented the Rings. "This is a significant milestone on your Juuva journey.  You now know how. Your future is unbounded."
Here are the thoughts of some of these excited  Awardees:
Juuva Vietnam: Eric Hoang
"Juuva has been an amazing journey to this point.  I returned to Vietnam with Juuva to help people be financially free with amazing products.  With it have come amazing friends, and my wonderful wife who I am thankful for every day.  But the real surprise was my own financial freedom. The ring is beautiful. I am so excited. Thank you Juuva"
Juuva USA:  Naomi Fox
"As a full-time single mom to three boys, trying to juggle providing for a family and taking care of myself is not for the faint of heart. Juuva's opportunity has given me time with these young men that I just can't get back while also filling me up. There are no other opportunities that I have ever seen that provide this level of freedom. Being awarded my $100,000 ring is such a deep honor"
Juuva USA: Andy & Bonita Shull
"We were so excited when we were presented with the 100,000 ring. When Juuva came out with the rings, we set our goal to earn the this ring.  We were so excited and humbled when we hit our goal.  Of course It was really never about the ring,  it is about what the ring represents… It is a symbol that "It Really Works"
Juuva USA:  Jenn Wilson
"Being a 2nd generation networker, I have a perspective on the industry most do not, and I can say that Juuva is incredibly unique. Growing up in the industry, earning $100,000 for myself is proof that Juuva can create wealth for generations. Juuva has truly transformed my wealth and my health"
About Juuva
At Juuva, we know the recipe for a company that lasts, and we're using it to transform lives every day. Juuva was built from the ground up to do things the right way—with integrity, passion and a distributor-focused mindset.
We pay a guaranteed 50% of PV to Distributors weekly. We want our Distributors to be successful because we know they are the key to our mutual success.
Our two co-founders, Grant Pace and Frankie Kiow, possess a wealth of industry experience and expertise and our entire executive team boasts more than 200 years of successful experience with the network marketing space. These individuals set the strategic direction for our company and they will do whatever it takes to provide the finest network marketing opportunity. For more information please visit www.juuva.com
Recommended Distributors Juuva