Marcin Baumgart Achieves Vice President Rank At Healy World
October 26, 2020
By Team Business For Home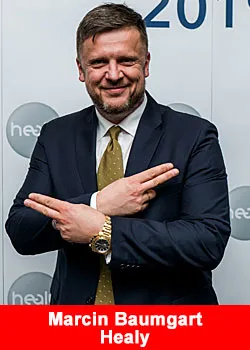 Growing Up in the World of MLM
Marcin Baumgart is no stranger to the world of MLM. His parents enjoyed much success in the network marketing industry.
Although Marcin eventually graduated from hotel management school, he quickly realized that he couldn't achieve his goals in the hotel industry. The desire for financial and personal freedom led him back to the world of network marketing.
Since returning to the industry in 1994, Marcin has achieved remarkable success. Several times, he reached top positions and built organizations with several thousand members, a feat accomplished while working part-time!
All of this changed when he moved to Healy World in 2019. From then on, the master network marketer dedicated his 25 years of experience full-time to Healy.
Out of 20 personally sponsored people, a team of around 10,000 sales partners spanning four continents was formed. Even the coronavirus pandemic could not slow him down. On the contrary, the switch to online meetings and the consistent focus on one-on-one meetings accelerated his business.
The results speak for themselves. In just 17 months, Marcin reached the Vice President level at Healy and earned around 360,000 euros to date.*
Marcin Baumgart has a clear formula for lasting success in network marketing. It takes a goal, or even better, a big dream and the unbridled will to stick to it to be successful. This attitude, in combination with all the necessary basics, must be passed on to highly motivated partners.
Motivated partners are people who are also willing to dedicate all their energy to achieve success. This is the prerequisite for conquering any goal, no matter how ambitious.
**Disclaimer: Everyone's results vary and are not typical. Just like with any business, it requires hard work, skillset, and dedication. Someone's results can be exceptional than others. There will undoubtedly be distributors who will earn less while others will earn much more. The company does not guarantee any level of income or success to any distributor.
About Healy
Healy is the leading provider of wearable wellness technology for the Direct Selling Industry.
Healy is a subsidiary of the internationally operating TimeWaver group. Our common vision is that all people should have the opportunity to live a holistically healthy life. Utilizing Information Field technology, over 2,000 doctors, practitioners and other therapists have used the frequency therapy of the Healy and TimeWaver systems. For more information visit www.healyworld.net
Notice: Healy is a microcurrent medical device that has been cleared by the U.S. Food and Drug Administration for local relief of acute, chronic, and arthritis pain and muscle soreness due to overexertion. Healy also has non-medical applications that use individualized frequencies to help balance your mind and body and relieve stress. Always use your Healy in accordance with its Instructions for Use.
For more information please visit: www.healyworld.net
Recommended Distributors Healy World