MLM Leader Patti Sutherland Joins QuiAri
October 20, 2020
By Team Business For Home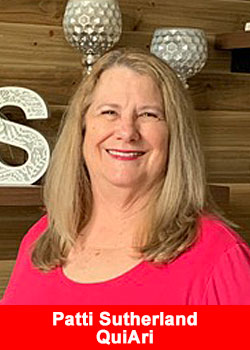 After a long 47-year career as a legal assistant, Patti Sutherland, from Tampa, Florida, USA, was ready for retirement.
She had big dreams to travel to Hawaii with her husband, remodel her house, spend more time with friends and family, and eventually buy a new car. Like most people in her situation, Patti wondered if she had saved enough to do everything she wanted in retirement.
"The truth is – you never really know for sure if you've saved enough. I didn't want to spend my golden years worrying about money. That's why I joined QuiAri. I started as a Customer and lost almost 50 pounds.

As a Promoter I'm sharing my story and product samples with friends, family, and everybody I meet in my travels. I'm having fun and earning extra income,"
stated, Patti Sutherland.
Patti's decision to join QuiAri was based on her love of the products, but also because of their reputation in the industry as the #1 fastest-growing global home-based business and their industry-first Same Day Pay. Each time Patti makes a sale, her commissions are paid in just 5 minutes. It doesn't matter if she's in the U.S. or traveling the world, the timing is always in 5 minutes or less.
"I've been in MLM companies before. I've never seen a company achieve so much in their first year of business. You've got to give Founder and CEO, Bob Reina, credit. When he makes a promise, he will not let you down. I joined QuiAri in pre-launch and the global growth of the company, and my team, has happened much faster than I expected,"
said Patti Sutherland.
QuiAri's Founder and CEO, Bob Reina is the first to bring the world's new #1 superfruit, the Maqui berry, to the global market. The legendary health benefits of the berry have been known by the Mapuche Indians for centuries. Only recently have modern scientists confirmed them to be true.
"I spent years researching Maqui and then collaborated with Dr. Juan Hancke, the world's #1 Maqui berry scientist, to develop formula for QuiAri Shake and Energy. I refused to cut corners just to get the products to the market faster.

QuiAri Shake and Energy are packed with more than just Maqui, but also an essential blend of 24 vitamins and minerals, a healthy Greens blend, probiotics, fiber, and more. And nobody beats us when it comes to taste. There's no chalky or sandy aftertaste. In fact, Patti told me the chocolate reminds her of a chocolate malt she loved as a child,"
stated Founder and CEO, Bob Reina.
Patti isn't alone in her love for QuiAri products. Global expansion efforts from Bob and the executive team have helped build the brand across 6 continents and 70+ countries. In just the last year, Bob has opened over dozen international offices with more on the way. Prior to joining QuiAri, Patti had no experience building teams outside of the United States. That has all changed since joining the company.
"I love working with people from all over the world and QuiAri couldn't make it any easier for me to do it. There are live opportunity presentations hosted by top international leaders in multiple languages daily. In fact, most of the free resources Promoters are provided are available in multiple languages. It makes introducing people to QuiAri much easier," said Patti Sutherland.
Patti has an optimistic view about the future of QuiAri. She has personally experienced success building her business. From qualifying for incentives, like QuiAri's famous Speed Bonus (the opportunity to earn an extra $500 USD in your first 30 days) to advancing quickly through the ranks, Patti had the confidence to officially retire from her legal industry job in September and promote QuiAri full time.
"I believe QuiAri will be as well-known as Amazon or Apple in the next 5 years. My business is exploding and Bob has been an incredible leader.

Thanks to his weekly broadcasts, every Promoter on my team has the right mindset for success. I was excited to be here in the very beginning. Now I'm even more excited about being here to see QuiAri reach over a billion dollars a year in sales. We're positioned for success"
About QuiAri
QuiAri is the #1 health and weight loss movement in the world today. Featuring exclusive, breakthrough products (QuiAri Shake and QuiAri Energy) featuring the world's new #1 superfruit, the Maqui berry, people everywhere are losing weight, boosting their energy levels, and improving their health. What started as an idea has now become a worldwide phenomenon, gaining a passionate following in over 200 countries.
But that's not all! We boast an exciting opportunity to promote QuiAri products and earn commissions within 5 minutes after each sale through industry-first, state-of-the-art payment technology.
Combining unrivaled products with the fastest payout, the fastest cycling binary, and one of the highest paying compensation plans in the industry, there's no doubt QuiAri is helping people live healthier, happier lives. To learn more, about QuiAri, their products and the opportunity to become a Promoter, please visit quiari.com, or follow them on social media @QuiAriOfficial.
*These statements have not been evaluated by the Food and Drug Administration. These products are not intended to diagnose, treat, cure or prevent any disease.
Income Disclosure Statement
Please note the QuiAri business opportunity offers unlimited income potential. However, QuiAri makes no guarantee of financial success. Success with QuiAri results only from successful sales efforts, which require hard work, diligence, skill, and persistence.
Recommended Distributors QuiAri