Top Earner Desire Nongol Helps Lead QuiAri
October 27, 2020
By Team Business For Home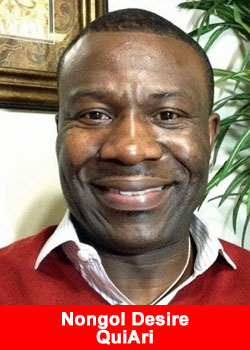 QuiAri Promoter, Desire Nongol has become masterful at turning setbacks into opportunities.
Growing up in Cameroon, Africa, Desire idolized the professional soccer legend, Pelé, and had dreams of playing for his home country in the Olympics. He practiced every day, worked hard, and never gave up. His life took an exciting turn when he was recruited to play for a semi-professional team. This was it – the last step before signing a contract with Major League Soccer. Unfortunately, hopes were dashed when he broke his leg. It was a career-ending injury.
However, all was not lost. Desire worked hard on the soccer field, but also in school. He fell back on his college degree in Physics and Chemistry and got a job in medical sales. It provided him with a steady income, but it was far from the lifestyle he assumed he'd be living as a professional athlete.
In 1997, he discovered the MLM industry and his life started to change. Suddenly he was earning money, traveling the world, and meeting new people.
"Even though I would have loved to have been the next David Beckham, the network marketing industry provides me with the opportunity to live the lifestyle of a professional athlete. That's why I'm so excited about QuiAri. We have products featuring the #1 superfruit, Maqui, the #1 opportunity with the fastest paying compensation plan, and a global footprint many multi-billion-dollar companies don't even have,"
stated  Desire Nongol.
QuiAri is the only health and wellness company that pays Promoters instantly, anywhere in the world.  Instant pay is a new concept for health and wellness companies. Even in the United States, medical professionals are typically paid bi-weekly. Outside of the United States, in countries like Desire's home country of Cameroon, it's the talk of the town.
"In Cameroon, just $10 USD can feed a family of 3 for a week. Even outside of Africa, millions of people around the world are having a difficult time making ends meet. Now, through QuiAri, they have a real opportunity to change their life without any previous sales experience. QuiAri's 100K Playbook maps out their path to success." 
Desire has been with QuiAri for over a year and has no doubts the company is on its way to becoming the next multi-billion dollar company. His confidence in QuiAri is from his personal experience improving his own health with QuiAri Shake and Energy. After a fire destroyed his home, the intense emotional stress got the better of him. He started overeating and put on 35+ pounds.
"I got to a point where enough was enough. It was time to turn my life around. I joined QuiAri and started taking the products not really knowing much about them. They were incredible! I felt full all day long, but still had lots of energy and it even helped with inflammation. When my old soccer injuries would flare up, QuiAri products would help reduce the swelling. In just 90 days I had lost 25 pounds. Eventually all of the extra weight just dropped off,"
said Desire Nongol.
Maqui, the world's new number 1 superfruit, is the star ingredient of QuiAri products. Discovered by the Mapuche Indians centuries ago in the remote mountains of Chile's Patagonia region, Maqui has been confirmed by scientists to have up to 5 times the antioxidant power of any previously known superfruit. QuiAri CEO and Founder, Bob Reina collaborated with Dr. Juan Hancke, the world's #1 Maqui berry expert, and created a revolutionary, proprietary MaquiX® extract that boosts the antioxidant power of Maqui 10 times.
"QuiAri is the first company to bring Maqui to the international marketplace. But that's not the only reason why QuiAri products are so nutritious. They are rich with vitamins, minerals, phytonutrients, and amino acids. Compared to other popular superfruits such as blueberry, mangosteen, acai, and noni, Maqui's antioxidant power blows them out of the water. To put things in perspective, those other superfruits only protect people from one free radical, which are unstable atoms that damage cells and lead to illnesses and aging. Maqui provides protection against all 6 primary free radicals. We have the only product in the health and wellness industry that can do that,"
stated QuiAri CEO and Founder, Bob Reina.
Desire believes that no other CEO in the business could accomplish as much as Bob did in just one year.
"Bob and the executive team have a combined 150 years of experience, and they have united the entire team, giving them a confidence in the products and the opportunity that I've never seen before. Everyone on my team is passionate about the products and excited about spreading the word. Thanks to Bob's diligence in global expansion, my team is reaching every corner of the world,"
said Desire Nongol.
Desire's goal for 2021 is to travel more frequently. He currently lives in Washington D.C. and has plans to visit people on his team that live overseas.
"I'm grateful that QuiAri allows Promoters to earn money from anywhere in the world. I've had no problems building my international team living in the U.S., but I'm hoping to have more opportunities in the future to visit my team in person. Even though QuiAri is a global corporation, all of the Promoters are close. We have fun, help each other out, and celebrate our successes together. We're kind of like one big family,"
said Desire Nongol.
About QuiAri
QuiAri is the #1 health and weight loss movement in the world today. Featuring exclusive, breakthrough products (QuiAri Shake and QuiAri Energy) featuring the world's new #1 superfruit, the Maqui berry, people everywhere are losing weight, boosting their energy levels, and improving their health. What started as an idea has now become a worldwide phenomenon, gaining a passionate following in over 200 countries.
But that's not all! We boast an exciting opportunity to promote QuiAri products and earn commissions within 5 minutes after each sale through industry-first, state-of-the-art payment technology.
Combining unrivaled products with the fastest payout, the fastest cycling binary, and one of the highest paying compensation plans in the industry, there's no doubt QuiAri is helping people live healthier, happier lives. To learn more, about QuiAri, their products and the opportunity to become a Promoter, please visit quiari.com, or follow them on social media @QuiAriOfficial.
*These statements have not been evaluated by the Food and Drug Administration. These products are not intended to diagnose, treat, cure or prevent any disease.
Income Disclosure Statement
Please note the QuiAri business opportunity offers unlimited income potential. However, QuiAri makes no guarantee of financial success. Success with QuiAri results only from successful sales efforts, which require hard work, diligence, skill, and persistence.
Recommended Distributors QuiAri