Volkan Kurt Achieves Vice President Rank At Healy World
October 7, 2020
By Team Business For Home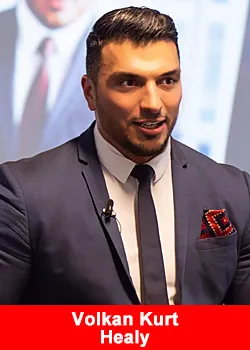 "Business is like competitive sports, daily training pays off."
Volkan Kurt was actually training for a career as a professional athlete but an injury forced him to change direction. He took his fate into his own hands and became an entrepreneur. Within a very short time, the former professional athlete became a top leader and at several companies at once.
100,000 financial statements speak for themselves 
The fact that the gifted entrepreneur found his way to Healy World is thanks to the current General Manager of Turkey, Hakan Karagaac, who invited Volkan to an event in Izmir.
Product and potential led Volkan Kurt to the conviction that he would devote all his energy to selling the health product. Faith in himself and the unique potential of Healy exceeded all of his expectations.
In just one year, he built up a sales network of around 15,000 Members from 25 Personally Sponsored Members and achieved the title of Vice President.
His keys to success?
Motivation and team spirit.
Volkan Kurt puts reaching and inspiring people on his daily training schedule, motivating his teams to peak performance. He sees business as a sport and leads with an athlete's mindset.
About Healy
Healy is the leading provider of wearable wellness technology for the Direct Selling Industry.
Healy is a subsidiary of the internationally operating TimeWaver group. Our common vision is that all people should have the opportunity to live a holistically healthy life. Utilizing Information Field technology, over 2,000 doctors, practitioners and other therapists have used the frequency therapy of the Healy and TimeWaver systems. For more information visit www.healyworld.net
Notice: Healy is a microcurrent medical device that has been cleared by the U.S. Food and Drug Administration for local relief of acute, chronic, and arthritis pain and muscle soreness due to overexertion. Healy also has non-medical applications that use individualized frequencies to help balance your mind and body and relieve stress. Always use your Healy in accordance with its Instructions for Use.
For more information please visit: www.healyworld.net
Recommended Distributors Healy World