ibüümerang Passes The Milestone Of 1 Million Customers In 18 months
November 6, 2020
By Team Business For Home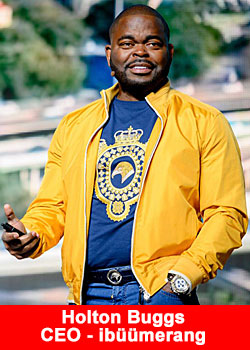 The core philosophy of ibüümerang is giving back without expecting anything in return. Mr. Holton Buggs and Mrs. Earlene Buggs, founders of ibüümerang, practiced this philosophy for years. They brought this philosophy to ibüümerang and created a culture of giving.
ibüümerang reached the milestone of 1 million customers in record time based on the principle born from the "giving" philosophy. An ambassador (distributor) will only earn money if a customer saves money when using a free technology.
The 1 million customers have come from multiple verticals within the PRIB™ (Perpetual Residual Income Builder™). Currently, there are four main areas of focus driving the rapid increase in customers; Travel, RideShare, Bill Reduction, and Wearable Technologies.
At the time of founding ibüümerang, The BüüM Foundation, a 501(c)(3) entity, was created with a mission to nourish underprivileged children around the world.
Each customer activated through the büümerang program provides one serving of nutrition – this alone has contributed to over 1 million servings of nutrition for children worldwide.
The Vision Statement of The BüüM Foundation is "An abundant life for every child on the planet." ibüümerang Ambassadors have embraced this vision and currently have donated millions of servings though various methods provided by ibüümerang. Watch the video below for more information.
About ibüümerang
Officially launched on September 1, 2019, ibüümerang's vision is to be a consumer-centric company focused on the philosophy of giving back.
ibüümerang's mission is to create a worldwide movement to empower people via the PRIB™ (Perpetual Residual Income Builder™), to provide an opportunity to succeed without selling by offering a 5-Star Lifestyle at 3-Star Prices™, and to support The BüüM Foundation in providing an abundant life for every child on the planet.
For more information on ibüümerang, its top tier executive team, and its overarching philosophy, visit the company website at www.ibuumerang.com.
Recommended Distributors iBuumerang