MLM Leader Michael Chiedozie From Nigeria Joins QuiAri
November 17, 2020
By Team Business For Home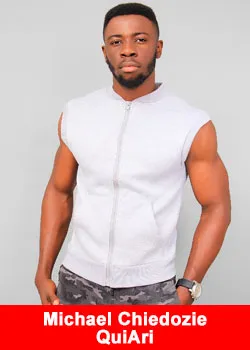 After graduating from college with honors, Michael Chiedozie from Nigeria, was eager to join the workforce, but very discouraged by the low entry level salaries most companies were offering. He landed a job as a public servant and has been supplementing his income through network marketing. Now, after achieving rapid success as a QuiAri Promoter, Michael believes his days of working multiple jobs are be numbered. 
"I found QuiAri through my friend and QuiAri leader, Desire Nongol. Desire is one of the most successful people I know. When he told me about QuiAri, I was really excited. Normally these kind of opportunities are presented long after the company's growth has peaked.  QuiAri is growing fast, and I was fortunate enough to be one of the first leaders to join in Nigeria, Africa.,"
stated Michael Chiedozie.
At just over a year old, when most companies are just starting to expand globally, QuiAri is way ahead of the curve with products readily available in over 200 countries worldwide and international offices located throughout Africa, the Philippines, Mexico, and the U.S. Michael has been a leader in several other global network marketing companies before joining QuiAri. He believes their global expansion strategy to be nothing short of genius.
"Leadership is what  I believe separates QuiAri from other companies. Most companies focus on launching 10-20 products at once and then focus on entering new markets as an afterthought. The QuiAri Corporate team did just the opposite. They launched with 2 unique, high quality products and focused on introducing them to as many markets as possible starting from day one. By keeping it simple and launching with a very generous compensation plan, QuiAri climbed to the top at record-setting speed,"
QuiAri Founder and CEO, Bob Reina, assembled an executive team with over 150 years of direct sales experience before launching QuiAri. That includes the world's #1 Maqui berry expert, Dr. Juan Hancke. Maqui, the world's new #1 superfruit, is the superstar ingredient found in every QuiAri product and contains antioxidant power that's 5 times stronger than any previously known superfruit. Bob Reina and Dr. Hancke collaborated to create a proprietary Maqui berry extract, MaquiX® that boosts the antioxidant power 10-fold.
"The health benefits of the Maqui berry have been known by the Mapuche Indians of the Patagonian region of Chile for centuries. Maqui grows in an extremely harsh environment. In addition to a volatile climate, there is a hole in the ozone layer directly above Patagonia.

Over time, the Maqui berries have adapted to survive the rugged conditions. Their resilient nature translates into a wide array of nutritional benefits – supporting and promoting weight loss, increased energy, and more. We've made history by being the first to introduce the Maqui berry to the global market and it changed the industry. We have an even more aggressive plan for 2021. It's going to be a big year for us,"
stated QuiAri Founder and CEO, Bob Reina.
Michael has been in awe of the taste of QuiAri products and their powerful results. He works out 6-7 times a week and has used QuiAri products for increased energy and total body cleansing.
"I rarely skip a day in the gym, and I attribute that to QuiAri products. I feel physically lighter and the energy boost helps me cruise through my morning workouts. I really love the shakes, too. It reminds me of my favorite ice cream shop in Nigeria, but it's only 120 calories.  This is nutrition you can actually feel, which makes QuiAri different than any other health and wellness product I've ever tried,"
said Michael Chiedozie.
 As a Promoter, Michael earns commissions, paid out in 5 minutes, for every Promoter or Customer that purchases products. That's the fastest payout in the health and wellness industry. QuiAri also holds another industry record for having one of the highest paying compensation plans.
"The speed at which QuiAri pays is unheard of. I sold products to a friend in Japan and 5 minutes later I received a payment notification on my phone. I can access that money right away and pay a bill or two that same day. QuiAri is one of the few companies in the industry with their own I.T. department for custom-programming. I continue to be impressed with QuiAri on a daily basis."
Michael's team keeps growing larger with each month that passes. He's attracting Promoters and Customers from all over the world. His goal is to have Promoters and Customers in all 200+ countries where QuiAri products are sold.
"I've seen QuiAri's global expansion happen right before my eyes in Africa. People are losing weight, gaining energy and feeling great. I'm so glad I've joined before they become the next multi-billion dollar company,"
said Michael Chiedozie.
About QuiAri
QuiAri is the #1 health and weight loss movement in the world today. Featuring exclusive, breakthrough products (QuiAri Shake and QuiAri Energy) featuring the world's new #1 superfruit, the Maqui berry, people everywhere are losing weight, boosting their energy levels, and improving their health. What started as an idea has now become a worldwide phenomenon, gaining a passionate following in over 200 countries. But that's not all!
We boast an exciting opportunity to promote QuiAri products and earn commissions within 5 minutes after each sale through industry-first, state-of-the-art payment technology. Combining unrivaled products with the fastest payout, the fastest cycling binary, and one of the highest paying compensation plans in the industry, there's no doubt QuiAri is helping people live healthier, happier lives. To learn more about QuiAri, their products and the opportunity to become a Promoter, visit quiari.com/en, or follow them on social media @QuiAriOfficial.
These statements have not been evaluated by the Food and Drug Administration. These products are not intended to diagnose, treat, cure or prevent any disease.
Income Disclosure Statement
Please note the QuiAri business opportunity offers unlimited income potential. However, QuiAri makes no guarantee of financial success. Success with QuiAri results only from successful sales efforts, which require hard work, diligence, skill, persistence.
Recommended Distributors QuiAri