Global Leader Walter Suarez Joins QuiAri
December 11, 2020
By Team Business For Home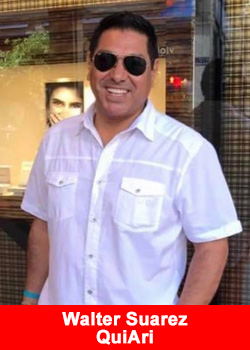 Walter Suarez, is an entrepreneur at heart. Originally from Lima, Peru, Walter spent time living and working all over the world in a variety of exciting careers.
"I was a hotel owner and operator in England and then I spent a decade working in the finance industry at one of the largest global banks in the world. I was successful before entering the direct sales industry, but I wasn't happy,"
stated Walter Suarez.
At the time, the banking industry was very unstable. Every day Walter would go to work worried that it could be his last. With his family's future in mind, he started searching for opportunities where he could apply the skills he learned in the hotel and financial industries and still earn good money.  A friend introduced him to direct sales.
"The timing couldn't have been more perfect. I immediately fell in love with the business. Since I was a hard worker and fast learner, so I climbed up the ranks very quickly. I'm 63, but still feel very young – and that's thanks to my latest opportunity with QuiAri."
Walter was introduced to the company through QuiAri Promoters, who insisted Walter try samples of QuiAri Shake and QuiAri Energy. He had tried a lot of health and wellness products in the past, but none that contained the new #1 superfruit, the Maqui Berry. He was eager see how it could help improve his health.
 I've tried the best of the best health and wellness products on the market. QuiAri, without a doubt, is in its own league. I noticed a change in my mental clarity and physical wellness and I look and feel 30 years younger,"
said Walter Suarez.
Walter couldn't believe how well his body responded to Maqui, but he was also surprised at the incredible taste of the products. The shakes had no gritty or sandy aftertaste. He compared it to high quality European chocolate. Walter found the energy tablets equally impressive, delivering "magical, natural energy,"
Feeling younger, stronger and healthier, Walter decided to join the QuiAri family as a Promoter. QuiAri's Founder and CEO, Bob Reina has designed an irresistible compensation plan that's filled with multiple ways to earn money instantly – and paid out within 5 minutes after each sale.
"Most companies I've been with hold your money for a long time before paying commissions and bonuses. I have a large Latin team that expands throughout many countries overseas. Our Founder and CEO, Bob Reina, has earned their loyalty to QuiAri partly because Same Day Pay establishes him as a leader they can trust." 
In addition to industry-first Same Day Pay, Bob Reina has created one of the fastest growing home-based global businesses with a variety of ways for Promoters to receive bonuses in their first 30 days.
"QuiAri's rapid global growth has provided me with an opportunity to deliver more to our Promoters around the world. For example, this month I added a surprise incentive to our already-generous compensation plan.

Promoters have an opportunity to earn unlimited Speed Bonuses, which rewards ALL Promoters that generate 1,000 PSV with an extra $500 USD on top of their commissions. Now that's something to brag on,"
stated Founder and CEO, Bob Reina.
Walter and Bob share the same vision to help others around the world. In fact, Walter is planning a trip around the world in late 2021 to try and meet with every single one of his Promoters in person.
"My New Year's resolution is to help 100 people achieve the rank of 100K or higher. Considering QuiAri is only steps away from becoming the next multi-billion-dollar company, I know i can do it," stated Walter Suarez.
To learn more about QuiAri, their products and the opportunity to become a Promoter, visit quiari.com/en, or follow them on social media @QuiAriOfficial.
About QuiAri
QuiAri is the #1 health and weight loss movement in the world today. Featuring exclusive, breakthrough products (QuiAri Shake and QuiAri Energy) featuring the world's new #1 superfruit, the Maqui berry, people everywhere are losing weight, boosting their energy levels, and improving their health. What started as an idea has now become a worldwide phenomenon, gaining a passionate following in over 200 countries.
But that's not all! We boast an exciting opportunity to promote QuiAri products and earn commissions within 5 minutes after each sale through industry-first, state-of-the-art payment technology. Combining unrivaled products with the fastest payout, the fastest cycling binary, and one of the highest paying compensation plans in the industry, there's no doubt QuiAri is helping people live healthier, happier lives. To learn more, please visit quiari.com.
These statements have not been evaluated by the Food and Drug Administration. These products are not intended to diagnose, treat, cure or prevent any disease.
Income Disclosure Statement
Please note the QuiAri business opportunity offers unlimited income potential. However, QuiAri makes no guarantee of financial success. Success with QuiAri results only from successful sales efforts, which require hard work, diligence, skill, persistence.
Recommended Distributors QuiAri