Industry Veteran Marilyn Magdangal Joins QuiAri
December 4, 2020
By Team Business For Home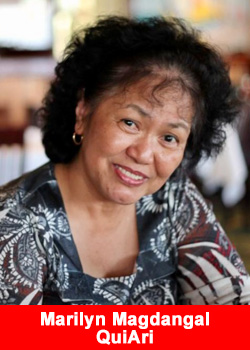 Marilyn Magdangal, who is originally from the Philippines, has been in the network marketing industry for as long as she can remember. Her first taste of the freedom and flexibility of being her own boss came in the early 1990's when she joined a global direct selling company.
"I have a son with cerebral palsy that needs constant care. Even with my parents helping, it's not easy to keep up with the demands of a normal 9-to-5 job. I've always done a good job of supplementing my income with network marketing. In my last company I was a Platinum Associate, and I'm very proud of that accomplishment,"
stated Marilyn Magdangal.
Now Marilyn is in a unique situation. Her parents are elderly and no longer able to keep up with the physical demands of helping with her son. She recently retired from her job in the restaurant industry so she could spend more time at home.
"I reconnected with some family members through Facebook and they were QuiAri Promoters. I'm so glad that happened because it changed my life. After learning more about the company and trying the products, I joined as a Promoter and am working the business full-time." 
QuiAri is one of the fastest growing home-based global businesses. At just over one year in business, their breakthrough nutritional products are available on 6 continents and in 70+ countries.With over 10 international offices and counting, QuiAri has without a doubt made their brand known throughout the world at record-breaking speeds.  Marilyn has recently been climbing the ranks at QuiAri, which she attributes to the quality of the products and the incredible opportunity for Promoters to earn.
"I'm 65 years old.  I've tried a lot of health products to help me stay on top of my health. Usually it's a shake that gritty or bitter and energy tablets that make my heart race. QuiAri's vanilla shake tastes just like my birthday cake, and the energy tablets are fantastic!  I can exercise on my treadmill for 30 minutes and still have energy left over to power through my day."
QuiAri products contain the world's new #1 superfruit, the Maqui Berry. Maqui has the highest antioxidant power of any previously known superfruit – even more than acai, goji, noni, and mangosteen. The company is built on the basic principle of helping people live their best life by providing products scientifically formulated to help people around the world lose weight, increase their energy, and feel great.
Promoters like Marilyn who are enjoying the products have an opportunity to get paid instantly every time someone they know makes a purchase. Same Day Pay – commissions paid in just 5 minutes –  is a revolutionary concept in the health and wellness industry. The momentum Same Day Pay has created, along with QuiAri's generous compensation plan, has many of the industry's most successful leaders watching QuiAri and quickly joining in on the fun.
"QuiAri's Founder and CEO, Bob Reina, treats us like family. People everywhere are excited about Same Day Pay, as they should be. Bob doesn't make you wait weeks or months to get paid. It happens immediately after a sale. People on my team are excited about this exclusive perk, but they also have the highest respect for Bob and all that he does for us." 
Bob Reina gives Promoters, like Marilyn, more than just Same Day Pay. Everything needed to run a successful QuiAri business is provided starting at day 1. That includes a state-of-the-art mobile app with real time commission cha-ching notifications, a cutting edge Back Office, a step-by-step guide to success, and more.
"When I was an Associate in the network marketing industry 25+ years ago, you started with very few resources. While the industry has changed a lot since then, I still felt like most companies could do better. I really wanted QuiAri to stand out from other direct sales companies and go above and beyond. So things like custom landing pages, personalized marketing sites, real-time reporting, an autoresponder follow-up campaign, and more are all available to Promoters at all levels. "
stated Founder and CEO, Bob Reina.
Despite claiming to be "not very computer literate," Marilyn is doing quite well expanding her business internationally using the tools QuiAri provides her.
 "My self-replicating website was ready to go as soon as I joined. I couldn't believe how easy it was to start building a global business from the comfort of home. I was even given step-by-step instructions on how to become a top earner in the company through a well-thought-out sample system – and it works!  I'm building my network, climbing the ranks, and earning Speed Bonuses. You just can't beat it!"
said Marilyn Magdangal.
Marilyn said she's excited about the future of QuiAri. She's been participating in the live corporate broadcasts and learning about all of the exciting things QuiAri has in store for Promoters and Customers in 2021. She never forgets to invite all her guests near and far to jump on and learn with her.
"The journey is just beginning, we've seen a small glimpse of what's coming and everyone is super excited.  As you can see on QuiAri's social media pages, now painted in bright purple and neon green, they are taking the brand to the next level. My dream is to earn enough to buy a bigger house that's filled with features for my disabled son. Since QuiAri is positioned to become the next multi-billion dollar-company, I can picture myself reaching the top of the compensation plan very soon,"
said Marilyn Magdangal.
Income Disclosure Statement
Please note the QuiAri business opportunity offers unlimited income potential. However, QuiAri makes no guarantee of financial success. Success with QuiAri results only from successful sales efforts, which require hard work, diligence, skill, persistence.
These statements have not been evaluated by the Food and Drug Administration. These products are not intended to diagnose, treat, cure or prevent any disease.
About QuiAri
QuiAri is the #1 health and weight loss movement in the world today. Featuring exclusive, breakthrough products (QuiAri Shake and QuiAri Energy) featuring the world's new #1 superfruit, the Maqui berry, people everywhere are losing weight, boosting their energy levels, and improving their health. What started as an idea has now become a worldwide phenomenon, gaining a passionate following in over 200 countries. But that's not all!
We boast an exciting opportunity to promote QuiAri products and earn commissions within 5 minutes after each sale through industry-first, state-of-the-art payment technology. Combining unrivaled products with the fastest payout, the fastest cycling binary, and one of the highest paying compensation plans in the industry, there's no doubt QuiAri is helping people live healthier, happier lives. To learn more, please visit quiari.com.
Recommended Distributors QuiAri