Nina Salkic From Bosnia And Herzegovina Achieves Double Diamond Rank At Rain International
December 29, 2020
By Team Business For Home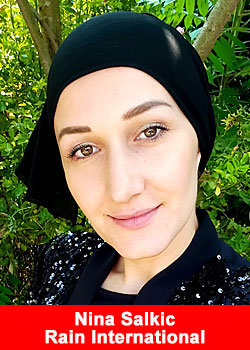 Rain International continues to grow amidst the pains and difficulties of the pandemic. One shining example of this growth can be found in the small country of Bosnia and Herzegovina, situated in the western Balkan Peninsula of Europe, where a truly incredible success story continues to unfold. Nina Salkic, who joined Rain International back in 2015, just hit Double Diamond.
When speaking of this monumental achievement, the Founder and CEO of Rain International, Byron Belka said:
"I think we were a little shocked and dismayed as an Executive Team when the pandemic reached its zenith over the spring and summer this year. We thought a lot about our Rain Partners, and wondered just how they would adapt to this crisis. And, just like we had hoped, they pivoted, flexed, and came out stronger. Nina was an incredible example of this. Her team actually began to grow, and continues to grow in a meaningful, duplicatable way.

We wondered how she continued to do this, and realized that she has an impeccable ability to generate growth, then develop leaders that allow this growth to duplicate. She deserves this rank advancement much more than anyone could ever know. And we're inspired by her hard work, along with the hard work of many others in her situation."
It has been incredibly interesting to watch how some distributors reacted to this global crisis. And, even more interesting, has been how many of these global Network Marketing companies have been able to pivot and grow, even in this difficult climate. We spoke with Nina about her recent achievement, and asked her about her own philosophy that has helped grow her team, even during a recession. This is what she had to say:
"I raised up leaders in my organization. I recognized their potential, helped them work on their mindset, showed them their own value, and then gave them responsibilities which they took very seriously. This helped them perform excellent work."
We also asked her how Rain's products helped grow her team during a time when boosting immunity is crucial:
"My love and passion has for nutrition has always existed, but seed nutrition provides a preventive type of health. I want to provide that awareness and share our category creating nutrition and its impact with our partners."
Fortunately for Rain International, their products are scientifically-backed, and proven to help build and boost healthy immune systems. It was through the power of these products that Nina was able to create a sustainable business.
Nina not only helped open her country to Rain International, but has sowed the seeds that has allowed Rain's seed-based nutrition to flourish, and help improve the lives of thousands. She said that this
"has opened the secret door of my life i never dreamed about. I've gotten the most valuable things that I never had before in my life: consciousness, awareness, fullness, and everlasting love and joy."
Nina currently resides in Bosnia and Herzegovina where she has four children, boasts two University degrees, and has generated one of the biggest teams in Rain worldwide.
About Rain International
Rain International is the original creator of seed-based nutrition. Our experts have gone to the source of plant nutrition to formulate products proven to support healthy lives. Rain International is more than the products we sell.
From the beginning, we set out to make changes to improve the world around us starting with the health industry and moving beyond its borders into global sustainability, education initiatives, elevated lifestyles, and more. We believe that the ultimate human experience we all crave is within everyone's reach, and we don't mind leading the way. For more info please visit www.rainintl.com.
Recommended Distributors Rain International