Tava Lifestyle Celebrated Their First Full Year In Business
December 8, 2020
By Team Business For Home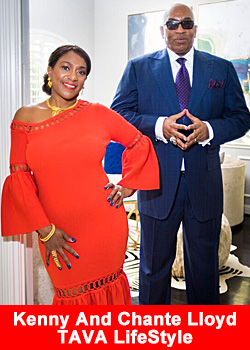 What started as a vision just 12 months ago, truly came to fruition on October 3rd 2020 as Tava Lifestyle celebrated their first full year in business with a virtual event for the ages.
Hosted by co-CEOs Kenny and Chante Lloyd, the message of hope, stability and transformation was ever-present. The journey has not been an easy one, and it is a testament to the leadership at Tava to not only survive in such challenging circumstances, but to actually become one of the fastest growing companies in the industry.
"We started from the bottom – and the great thing about being at the bottom is that you can see those at the top very clearly. And now we are here."
– Kenny Lloyd kicked off the event in appreciation for the people around him who have contributed to the success of the company.
One of the main factors in the Tava growth is the culture within the company. Every Associate, regardless of rank, is valued and is taken under wing of the Tava family. There is an optimism around Tava that is so refreshing in a time of global uncertainty. You can feel the commitment and devotion of Kenny and Chante when they talk about Tava. It's a mission born out of genuine love for people, in strength of conviction and integrity.
This love has been reciprocated within the field, in the form of servant leadership. In fact, one of the highlights of the weekend was the Tava awards, including the inaugural ring ceremony, which recognized outstanding, performance-based leadership.
As each Associate collected their award and shared a few words, a common theme was evident throughout: Resilience. Take Tkay Walker for example, recipient of the 'Performance Under Fire' award for overcoming unrivalled challenges to succeed.
Speaking on the award, Kenny told Tkay:
"Change comes from desperation or inspiration. When most people start their business, they're under pressure constantly. Some people collapse and some people thrive." Without doubt, Tkay has thrived.
Heading up the main event of the ring ceremony were industry veterans, Jeff and Janella Simpson, who a year ago gave up significant monthly income to build Tava alongside Mr. Lloyd. It is that unwavering belief and loyalty that has propelled Tava to these new heights.
"People come for the money, but stay for the feeling." said Jeff Simpson as he and Janella collected their $500k Earner Rings. The power couple gave all of the accolades to their team, vowing to continue to fight for them until they are on stage too. "Alone we are a drop of water, together we are an ocean." 
List of 50k and above Ring Earners at TAVA Lifestyle
500K: Jeff and Janella Simpson
250K: TKay Walker, Tony Fleming, Tim and Nicole Shelton
100K: Ashlyn Shelton, Eboni Henderson, Tamme Pha, Clavon Browning
50K: Tony Ganther
50K: Andy and Kathy Jean
50K: Dwayne and Toni Morgan
50K: Sabrina Wright
50K: Adica Business Services
In a business driven by relationships, Tava puts people over profits. It was an event to reflect on a monumental year, celebrate the spirit of excellence and cast a vision for 2021 and beyond. The future has never been brighter at Tava Lifestyle.
About TAVA Lifestyle
TAVA Lifestyle develops exceptional, service-driven leaders who are dedicated to their Distributor Partners to help them achieve their goals. TAVA's mission is "to provide a safe and fair environment for people to exercise their gifts and talents with the goal of creating a better life for themselves and their families."
TAVA's Leaders are committed to empowering and guiding individuals to maximize their power and resources by creating a welcoming and engaging culture that equips, enables, educates, and encourages them to reach their personal goals and live their dreams, while making a difference in the lives of others, such that they "Lift as they Climb!". For more information please visit www.tavalifestyle.com
Recommended Distributors Tava Lifestyle