Top Leader Norman Cornejo Joins ByDzyne
December 28, 2020
By Team Business For Home
ByDzyne continues to attract great industry leaders. Most recently, one of the most well-renowned in Latin America has chosen ByDzyne as his home.
Norman Cornejo (IG @normancornejooficial) has made a huge decision in his career by joining ByDzyne, an innovative company founded by industry legends Nat & Chanida Puranaputra, Chad & Nattida Chong, and Sophia Wong.
It is without a doubt that Norman's presence displays a significant growth for ByDzyne in Latin America.
In his words, Norman expresses,
"I am joining a project that fulfils all the variables to become one of the largest companies in the industry within just the next few years and it would be a mistake to not be part of this legacy."
After being the number one earner in 3 companies, Norman attributes part of his achievements to creating proven duplication, and an education system that has helped many people to create success stories in the industry and he knows that with ByDzyne those success stories will multiply.
Norman is known for his leadership and ability to build strong organisations by helping many people achieve great results, which is why other top leaders in the industry are joining.
Norman has also clearly said that he is ready to build a team in multiple countries around the world and has left a message for all those interested to join his vision.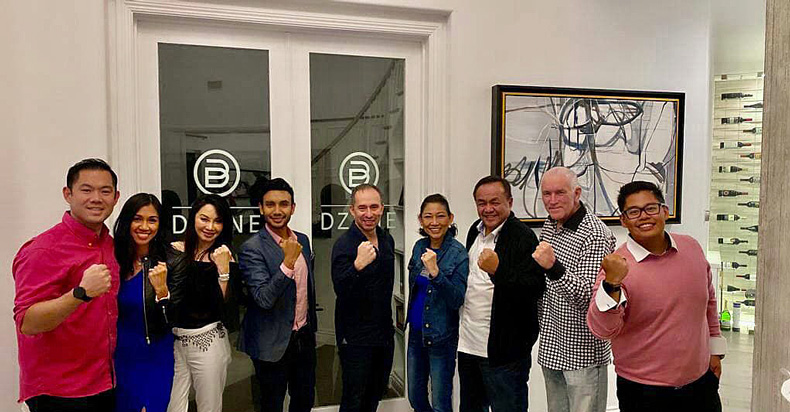 ByDzyne's Corporate team has also expressed its joy at being able to count on a leader of these qualities joining as brand ambassador:
"During our many conversations, Norman's experience really came out and he knows exactly what he is looking for in a long term generational company and ByDzyne ticked every box.

We are excited for Norman's future and his in depth knowledge of this industry to help shape the future of ByDzyne"
exclaim Nat Puranaputra, Chairman & Co-Founder of ByDzyne.
SPANISH:
NORMAN CORNEJO TOP LIDER ELIGE BYDZYNE
ByDzyne sigue atrayendo a grandes líderes de la industria, uno de los más grandes en Latinoamérica ha elegido esta empresa como su hogar.
Norman Cornejo (IG @normancornejooficial) ha tomado una decisión trascendental en su vida al unirse a  ByDzyne ja innovadora compañía fundada por las leyendas de la industria Nat y Channida Puranaputra, Chad y Nattida Chong y Sophia Wong.
Sin duda Norman Cornejo es a la fecha uno de los fichajes más importantes de ByDzyne y su presencia augura un importante crecimiento del negocio en Latinoamerica.
En sus palabras, Norman ha dicho
"Me uno a un proyecto que cumple con todas las variables para convertirse en una de las empresas más grandes en los próximos años  en la industria y quiero ser parte de ello"
El top líder de ingresos en 3 compañías atribuye parte de sus logros a  W MOMENTUM un sistema de duplicación y educación probado que a ayudado a muchas personas a lograr grandes ingresos en la industria y sabe que con ByDzyne las historias de éxito se multiplicarán.
GRANDES LÍDERES UNIENDOSE
Norman es conocido por su liderazgo y capacidad para crear organizaciones sólidas ayudando a muchas personas a lograr grandes resultados, razones por las cuales otros importantes líderes en la industria se están uniendo a W MOMENTUM.   www.wmomentum.net
También Norman ha dicho claramente que está listo para construir un equipo en múltiples países alrededor del mundo y ha dejado un mensaje para todos aquellos interesados a sumarse a su visión en la página www.wmomentum.net
El equipo Corporativo de ByDzyne ha manifestado también su alegría por poder contar con un líder de estas cualidades sumándose como embajador de la marca:
"Durante nuestras muchas conversaciones, la experiencia de Norman realmente salió a la luz y él sabe exactamente lo que está buscando en una empresa generacional a largo plazo y ByDzyne marcó todas las casillas.

Estamos entusiasmados con el futuro de Norman y su profundo conocimiento de esta industria para ayudar a dar forma a la futuro de ByDzyne ",
exclama Nat Puranaputra, presidente y cofundador de ByDzyne.
About ByDzyne
ByDzyne's multi-faceted approach disrupts the traditional industry model by first understanding that one size DOES NOT fit all. You were born into a particular culture, with unique tastes, interests, and desires. Therefore, ByDzyne™ was created with a purpose to celebrate your uniqueness and empower your extraordinary potential. The company's exceptional "culture-crafted" products meet distinct needs in key consumer markets, and their lucrative business opportunity was formulated to fuel your ideal lifestyle, as YOU see fit.
This customizable approach is a driving force that propels everything ByDzyne does and will do in the future. They proved this by already establishing 4 distinct verticals: Technology, Training, Travel and Transform. And 8 industries are represented in these diverse categories of products and services: Forex, Online Marketing, Internet of Things (iOT), Lifestyle, CBD, Skincare, Weight Management, and Wellness. At ByDzyne's core, they believe that this "Power of Choice" offers not just opportunity, but security.
Ultimately, the perfect home-based business would have a catalog full of ever-evolving products and services, that would be relevant to all people, available in all markets, and at a price point that everybody can afford.
ByDzyne's mission is to be the most influential economic and cultural force in the industry. Thus, the goal is to continue to expand their global footprint into multiple verticals to maximize your income opportunities, capitalize on trends, and gain market share in upcoming industries as they advance. Their experienced executive team strives to stand apart from the pack, and build a legacy you can be proud of; one you can truly call home. We are ByDzyne™. Where limitations don't exist. For more information please visit www.bydzyne.com.