3rd Generation Network Marketer Laura Harte Becomes Co-Founder & President of Amplifei
January 25, 2021
By Team Business For Home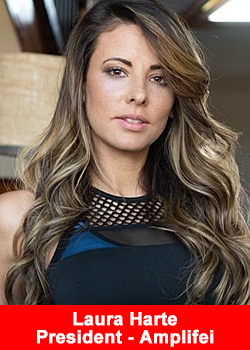 Founder and CEO, Robert Oblon announced Laura Harte will assume the role of Co-Founder and President.
Laura Harte will spearhead the expansion strategy of Amplifei™, and carry on her passion to empower women, especially single moms, striving to create a lasting legacy for their children.
Robert Oblon, Founder and CEO of both Amplifei International and Hapinss Brands says,
"When I met Laura, I knew right away that she was a force in our profession. The more I listened, the more I realized how passionate she was at showing others their happiness shouldn't be tied to their circumstances but tied to fulfilling their purpose in life. I knew then, if I ever launched another company, I wanted her by my side leading it."
Laura Harte is a main street business owner, former single mother of four, speaker, and well-known women empowerment advocate. Harte is a third-generation network marketer, who started as a part- time field rep, and went on to develop, not one, but three independent sales organizations producing well over $15 million in sales.
Laura Harte shares,
"I am honored to step into a role that helps a whole company and not just a downline team. I have a very specific vision related to people helping people and we're already proving that concept in a very short period of time. Our products have the potential to revolutionize health and wellness through and by, enabling us to transform our distribution model even further."
Headquartered in Greenwood, Indiana, Amplifei™ and HAPInss Brands™ were founded in 2020 by Robert Oblon, who serves both companies as Founder and Chief Executive Officer.
About AmpLIFEi
Amplifei International is a health and wellness lifestyle company with exclusive marketing rights for Hapinss Brand's products serving freelance entrepreneurs. These two Companies combined give customers and its freelance entrepreneurs more options to improve their lives in a more complete way. Hapinss Brands™  is a Nutritional Science company providing people with the latest technological advances specific to amplifying the state of wellbeing, also known as happiness. For more information about Amplifei please visit www.amplifei.com
Recommended Distributors Amplifei