Industry Leader Tatyana Shakhin From Kazakhstan Joins QuiAri
January 15, 2021
By Team Business For Home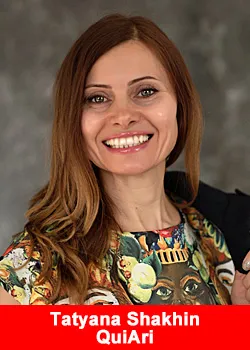 From fashion designer to business owner, Tatyana Shakhin has done it all, but she has found her true home with QuiAri. Tatyana has lived in Almaty, Kazakhstan for the last 50 years where she owns her own tourism business and ran a newspaper where she interviewed leaders of many Network Marketing companies.
Tatyana was introduced to QuiAri through her mentor, QuiAri Promoter, Julia Krymoff,  who mentioned that Founder and CEO, Bob Reina, was launching a new company. Tatyana jumped on this opportunity and instantly fell in love with the products. She started sharing the products with everyone around her.
"I was in the right place at the right time! QuiAri has the best leadership, excellent products, and pays their Promoters the same day when someone purchases products! I believe that I will never need to look for another company, and our Founder and CEO, Mr. Bob Reina assured us of this!"
Tatyana Shakhin stated.
The thing that makes QuiAri so different from other companies is industry-first, Same Day Pay. "Get paid in five minutes" is the catch phrase that keeps QuiAri Promoters so engaged and dedicated to their business.
 "It's incredible and I don't know any other company practicing it. We receive our commissions as soon as the sales are made!" explains Tatyana.
Founder and CEO, Bob Reina shares the same vision with Promoters around the globe and strives to make the Compensation Plan and reoccurring bonuses electrifying and inspiring. In return, Promoters are eternally grateful for all Mr. Reina does for them, and this only encourages the warm, family-feel QuiAri brings to the table.
"This is a billion-dollar brand! There is no doubt about that. This is an opportunity to build an international business so don't limit yourself! Over 200 countries are involved around the world, and this is all thanks to Founder and CEO, Mr. Bob Reina, and the team that builds this company,"
said Tatyana.
Tatyana has even gotten her son and husband to join the fun. They are taking QuiAri products daily and they love it. Everyone in her family found what they needed, whether it was weight loss or increased energy.
In just over a year, Tatyana has excelled in her business and improved her and her family's health, thanks to QuiAri. Her success and experience in network marketing  is due to her love for the industry. People are willing and eager to learn about QuiAri and use the products consistently, which makes the process so rewarding to Promoters like Tatyana. Same Day payouts and generous bonuses make being a Promoter for QuiAri that much more gratifying.
"I started my MLM career in the health industry so I know what it takes to succeed. QuiAri is a Promoter's dream because of all the resources we offer. Everything is built around growing their QuiAri business from home while getting excited about products you feel."
said Founder and CEO, Bob Reina.
About QuiAri
QuiAri is the #1 health and weight loss movement in the world today. Featuring exclusive, breakthrough products (QuiAri Shake and QuiAri Energy) featuring the world's new #1 superfruit, the Maqui berry, people everywhere are losing weight, boosting their energy levels, and improving their health.
What started as an idea has now become a worldwide phenomenon, gaining a passionate following in over 200 countries. But that's not all! We boast an exciting opportunity to promote QuiAri products and earn commissions within 5 minutes after each sale through industry-first, state-of-the-art payment technology. Combining unrivaled products with the fastest payout, the fastest cycling binary, and one of the highest paying compensation plans in the industry, there's no doubt QuiAri is helping people live healthier, happier lives. To learn more about QuiAri, their products and the opportunity to become a Promoter, visit https://quiari.com/en, or follow them on social media @QuiAriOfficial.
These statements have not been evaluated by the Food and Drug Administration. These products are not intended to diagnose, treat, cure or prevent any disease.
Income Disclosure Statement
Please note the QuiAri business opportunity offers unlimited income potential. However, QuiAri makes no guarantee of financial success. Success with QuiAri results only from successful sales efforts, which require hard work, diligence, skill, persistence.
Recommended Distributors QuiAri