Jody Wannemacher Achieves All-Star Rank At Velovita
January 25, 2021
By Team Business For Home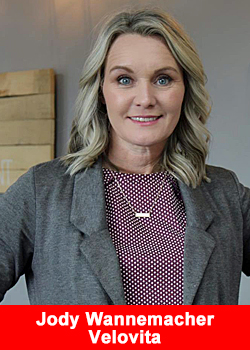 Jody Wannemacher is truly defining what "staying busy" in network marketing really means. Now an All-Star with Velovita, Jody had only been in MLM for a short amount of time before faithfully hitting her stride. But her inspirational story proves why hard work, along with a positive vision to help others, can be so fulfilling in many different ways.
In less than 3 years inside the MLM industry Jody had already earned tremendous accolades. Most notably achieving a "Royal Black Diamond" recognition, an honor that had been given to less than 50 others at the network marketing company Jody previously was a part of.
Even without much training, it was evident Jody was going to be successful in the industry. As a mother of four children, she knew what it took to help others when needed, and in network marketing she had that. Jody states:
"To bring hope and healing to a hurting world.  People struggle with issues they don't always talk about until you give them a solution and a way to overcome some of those issues.

 I want to help others not only through products that have helped me and products I believe in, but also through a caring genuine heart that wants to see and help people grow and find victory on the other side of their trials and pain."
Jody and her husband, a pastor at the church they oversee together, have also run multiple businesses together. But they knew once they found out about Velovita, there was an exciting future ahead for them and their four children.
"There's something amazing about being involved in any venture from the inception of it.  Getting to experience victories with others you don't know personally yet you feel a connection with is such a fun and exciting thing to be in the midst of.

My husband and I have never shied away from a challenge or business opportunity that others might deem scary or too big to enter into; so, this was no different for us. The idea of being a part of something that is about to take the network marketing world by storm is both humbling and special."
Jody Wannemacher, who also has a master's degree in marriage and family studies, continues to stay busy with Velovita. As a fan not only of the products, but also of the positive work environment.
Jody states:
"The support here is phenomenal and the hearts of those surrounding you are genuine servant hearts. It has never felt like there is a "corporate" part of the company, or "the leaders" or the "field", it simply feels like one giant team cheering one another one from the top of the company down the ones just joining. 

I love the idea of everyone having the opportunity to win and win big here.  The way the system is set up just works and we are already seeing people succeed mightily here.  That is something that excites me- not for myself but for those that have joined me on this journey. "
Jeffrey Mack, Velovita's President, had this to say about Jody:
"Jody Wannemacher is not only a great businesswoman and leader, but she is also a great person. We are very blessed to have her with us at Velovita and are very moved by everything she stands for."
Staying busy will not be a tough task going forward with Jody Wannemacher. She's already doing it like a pro.
About Velovita
Founded on 90+ years of operational and field success, Velovita is set to become a global leader of innovation in the field of biohacking, social selling, community expansion, and support for the new world entrepreneur.
Their mission is to provide an ecosystem of inspiration, education, and life enrichment. Velovita has a singular focus on the individual to increase their daily performance both mentally and physically. For more information on Velovita, please visit Velovita.com or Velovita's Facebook page. You may also contact us at [email protected]. To join the new movement, click here for the Velovita Member Rewards. We know you'll #LOVIT!
Recommended Distributors Velovita