Kristen Cunningham Hired As Vice President Of Field Development At LifeVantage
January 22, 2021
By Team Business For Home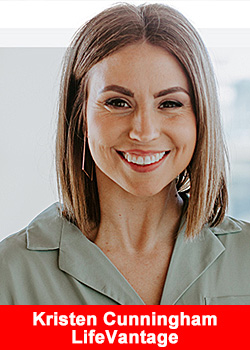 New LifeVantage VP Kristen Cunningham Brings Experience and Connection to New Role
LifeVantage is proud to announce that Kristen Cunningham has joined the company as its new Vice President of Field Development. Kristen's unique experiences as a leader in the field position her as a game-changer for the business.
Originally from Rigby, Idaho, USA,Kristen earned a Bachelor's degree in Communications from Brigham Young University. Following graduation, she began her career in Direct Sales working for NuSkin. Over her five years there, Kristen progressed through the ranks, finishing her time with the company as the manager of the distributor support call center.
Following her time at NuSkin, Kristen worked for Shaklee, another network marketing company, first as Director of Sales and later as Director of Business Development. At Shaklee, she launched new systems into the field of Direct Sales, working with company leadership to develop and deploy the best systems to increase enrollment for the company. Her efforts were met with success, increasing enrollment by more than 30%.
Kristen is thrilled to be joining the LifeVantage team right now because she sees incredible potential for growth.
"The market opportunities are incredible. It's rare for a product like this to be both so affordable and so effective,"
she says of LifeVantage's flagship product, Protandim® Nrf2 Synergizer. Combined with the current leadership and systems in place, these elements create a perfect storm that she's seen propel the success and growth of the other companies she's been with, and she's excited to be at the forefront of these advancements with LifeVantage. She also sees a healthy, thriving company culture at LifeVantage, which emphasizes inclusiveness and diversity.
"We are looking forward to having Kristen on board at LifeVantage,"
says Chief Sales and Marketing Officer Justin Rose.
"Kristen not only brings experience and the right skill set to this position; she also brings a unique understanding of the challenges distributors face in the field."
As a working mother of three, Kristen understands the necessity of finding the balance between a connected home life and a rich fulfilling career, challenges many distributors face. Kristen is uniquely equipped to put programs into place that will help these women find that balance. Despite the vast majority of distributors within the industry being female, women are often not heavily represented on the corporate leadership side, something LifeVantage is diligently working to change through hiring women like Kristen.
"I was given a ton of opportunities over the years, but it's scary because then you have to step up and run with it,"
she says. Her goal is to help these women find their confidence so they too can "run with it" and reach their full potential in their businesses.
Kristen also has a vision for LifeVantage as a whole in the coming months and years. As the Vice President of Field Development over the United States and Canada, she will partner with each of the team leaders to help them grow their businesses to increase and meet their revenue goals. She looks forward to helping leaders develop a more proactive mindset as they make their business plans, moving from a reactive, problem-extinguishing frame of mind to one that enables them to anticipate issues before they begin.
She also looks forward to meeting one-on-one with these leaders. One of her favorite things about this field is connections with other people, and especially after a year of lockdowns and social distancing, she sees the value of building relationships as more important than ever. This more personalized approach will help leaders build their businesses in ways that play to their strengths, supported by the strategies Kristen will help them develop.
Success is multi-faceted for Kristen. Of course, she wants to see revenues increase; the numbers are important, and she is focused on improvement through tracking and setting high targets. However, she believes a good company culture is essential as well, and that it can enhance the financial success of the company.
"Culture is a big thing. Internally, we want distributors to feel supported and able to progress,"
she says, and she believes this goal is attainable with a solid, committed leadership base. Her focus on relationships and connection through a business lens will augment this vibrant and supportive company culture.
When Kristen isn't busy excelling in the business world, she loves snowboarding with her husband, Scott, and their children, Andy (7), Marshall (6), and Collins (2) in Utah, where the family lives. She also enjoys supporting her children by attending their sports games and other activities. The family is hoping the new year will bring more opportunities to travel, another passion of Kristen's that has been put on hold due to pandemic restrictions. Kristen's story can be an inspiration to the distributors in the field at LifeVantage––they can succeed in their business and thrive in their personal lives as well.
About LifeVantage
LifeVantage Corporation (Nasdaq: LFVN) is a pioneer in Nutrigenomics – a new science dedicated to biohacking the human aging code. The Company engages in the identification, research, development, and distribution of advanced nutrigenomic dietary supplements and skin and hair care products, including its scientifically-validated Protandim® product line, Omega+ and ProBio dietary supplements, its TrueScience® line of Nrf2-infused skin and hair care products, PetandimTM for Dogs, Axio® energy drink mixes, and the PhysIQTM weight management system. LifeVantage was founded in 2003 and is headquartered in Salt Lake City, Utah. For more information, visit www.lifevantage.com.
Recommended Distributors LifeVantage