Network Marketing Leader Svetlana Chereneva Joins QuiAri
January 28, 2021
By Team Business For Home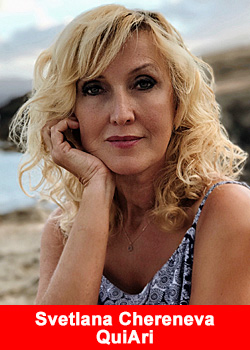 In just a little over a year, QuiAri's aggressive global expansion strategy has reached nearly every corner of the world – literally. Svetlana Chereneva, is originally from Siberia, and was well aware of QuiAri revolutionary products and their global opportunity.
"I was introduced to QuiAri by Promoters Boris and Julia Krymoff, who are also originally from Russia. We've both moved away, but have kept in touch. I was excited to hear from them about QuiAri. My husband and I own an organic vegetable farm in the Netherlands and need lots of energy to maintain my crops. They sent me samples right away,"
stated, Svetlana Chereneva.
Although QuiAri wasn't Svetlana's first network marketing company, she believes it could be her last. She fell in love with the taste of the products and the high quality ingredients.
"Since I'm in the organic food business, I was probably the only person excited to read the ingredient panel on my QuiAri products. These products contain all of the essential vitamins and minerals needed to supercharge your body, but what I noticed the most is the sensational taste,"
Svetlana lost 8 pounds in just 60 days drinking shakes and taking energy tablets. QuiAri Founder and CEO, Bob Reina attributes some of the company's rapid growth to flavor. He personally tasted over 100 different mixes before finding the ideal blend.
"As the father of two young children, my health and energy levels are important to me. I wanted to have the strength and stamina to keep up with them. This was my "why" for founding QuiAri. When I discovered all of the amazing health benefits of the Maqui Berry it was too good not to share with the world. I've never felt better and I've lost over 30 pounds,"
stated Founder and CEO, Bob Reina.
Now available in over 200 countries worldwide, Promoters, like Svetlana,  are leveraging the countless success stories and QuiAri's proprietary ingredients to grow their business.
"I promote QuiAri in my spare time and already have teams in 5 countries and on 3 continents. This is the hottest health and wellness product on the market right now. As a small business owner, I'm supplementing my income while meeting health-conscious individuals daily. It's a win-win situation for everyone,"
said Svetlana Chereneva.
QuiAri is on the verge of releasing new company-wide enhancements, including new bonuses and resources, that will only continue to help drive sales. In addition to being the first company to introduce the world's #1 superfruit, Maqui, to the global marketplace, QuiAri is the only health and wellness company that offers Same Day Pay, that's commissions paid in 5 minutes. No other company in the industry pays their Promoters faster.
"I'm really happy to have found QuiAri. Under Bob's incredible leadership, we're enjoying success and having lots of fun. Plus, my health has never been better. My dream is to travel more. I have my eye on the pristine mountains of Patagonia, where the Maqui Berry grows. It'll happen very soon."
About QuiAri
QuiAri is the #1 health and weight loss movement in the world today. Featuring exclusive, breakthrough products (QuiAri Shake and QuiAri Energy) featuring the world's new #1 superfruit, the Maqui berry, people everywhere are losing weight, boosting their energy levels, and improving their health.
What started as an idea has now become a worldwide phenomenon, gaining a passionate following in over 200 countries. But that's not all! We boast an exciting opportunity to promote QuiAri products and earn commissions within 5 minutes after each sale through industry-first, state-of-the-art payment technology. Combining unrivaled products with the fastest payout, the fastest cycling binary, and one of the highest paying compensation plans in the industry, there's no doubt QuiAri is helping people live healthier, happier lives. To learn more about QuiAri, their products and the opportunity to become a Promoter, visit https://quiari.com/en, or follow them on social media @QuiAriOfficial.
These statements have not been evaluated by the Food and Drug Administration. These products are not intended to diagnose, treat, cure or prevent any disease.
Income Disclosure Statement
Please note the QuiAri business opportunity offers unlimited income potential. However, QuiAri makes no guarantee of financial success. Success with QuiAri results only from successful sales efforts, which require hard work, diligence, skill, persistence.
Recommended Distributors QuiAri