Online Marketing Superstar Tracy Laughard Hits All-Star rank At Velovita
January 16, 2021
By Team Business For Home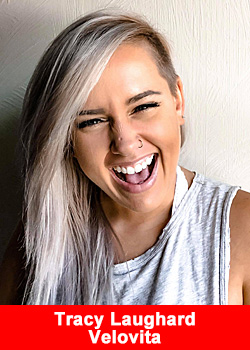 Tracy Laughard is a former school counselor and art teacher that is now helping turn network marketing with Velovita into an art form. Busy not only as a wife, and a mother of 2, Tracy is also staying busy using her past experiences as an educator to reach and inform her still growing online network.
But Tracy's journey into MLM over the last three years wasn't always planned. Leaving the classroom had to be a tough decision for her, but the businesswoman inside knew that joining the MLM industry would be the right choice. A choice she made almost unexpectedly.
"I honestly jumped into this industry without even knowing it was an industry. I just wanted a discount on a product I was buying from my friend. But once I got in and saw the potential, that was all it took for me to start learning about this industry and running with it."
Said Tracy.
Now as an All-Star member with Velovita, Tracy Laughard is helping create a lasting legacy for herself and her family. Her educational and entertaining social media posts not only do a great job of highlighting the benefits of Velovita's products, but Tracy also helps tons of eager entrepreneurs become the leaders they want to be.
Says Tracy:
"Seeing them grow personally. Seeing them grow as entrepreneurs. Seeing them grow into leaders. Seeing them change the game for their families. THAT is what I'm most proud of.

I may not be in a classroom anymore, but the teacher in me is still there. Teaching people how to truly take the reins and change their lives by helping others, that gives me all the warm and fuzzy feelings."
Tracy's journey is far from over and her choice to be with Velovita is a definite sign she is only just beginning. With a vast global reach and an innovative product line behind it, Velovita is the perfect place for Tracy Laughard to be.
"Velovita was very different to me for multiple reasons but I think the biggest impact was the product. I started using the product and fell in love. My husband started using it and loved it. Then my two autistic kids started using it as well.

It has made such a difference with their focus, especially at school, and my mama heart is so happy for that! It's such an innovative product and has made such a huge impact on my entire family.

When I looked at the business side of the company and saw the comp plan that blew me away. The culture of the company was awesome, the timing, all of it! I knew I had to jump in on this."
Tracy joins MLM industry leaders Kosta Gara and Jeffrey Mack at Velovita, as they continue to grow the global reach and make positive impacts on people's lives.
"Tracy is a force of nature in our industry and we cannot wait to see her growth over the next few years. Her energy and positive attitude are contagious and inspiring.

We are so excited to have her as a part of the Velovita family  Keep your eye out on Tracy Laughard, as well as Velovita, because the best is yet to come."
Said Kosta Gara, Velovita CEO
About Velovita
Founded on 90+ years of operational and field success, Velovita is set to become a global leader of innovation in the field of biohacking, social selling, community expansion, and support for the new world entrepreneur.
Their mission is to provide an ecosystem of inspiration, education, and life enrichment. Velovita has a singular focus on the individual to increase their daily performance both mentally and physically. For more information on Velovita, please visit Velovita.com or Velovita's Facebook page. You may also contact us at [email protected]. To join the new movement, click here for the Velovita Member Rewards. We know you'll #LOVIT!
Recommended Distributors Velovita