QuiAri Launches New Enhancements For 2021
January 2, 2021
By Team Business For Home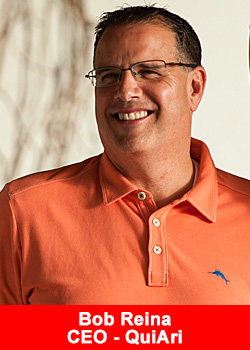 Without a doubt, QuiAri is excited and ready for 2021 with their new slogan "Come Join The Fun!" The company has made big moves since opening for business in October 2019, Founder and CEO, Bob Reina insisted in launching in over 200 countries worldwide starting on day 1. Armed with breakthrough nutritional products featuring the world's new #1 superfruit, the Maqui Berry, and an opportunity boasting the fastest paying compensation plan in network marketing history, Bob was laser-focused on global expansion.
"Our strategy was aggressive, but I knew our products were truly unique and we did a good job at generating excitement prior to launch. We haven't run into any issues growing our business. In fact, over the past year we really found our groove and connected with our Promoters and Customers around the world. Our new business plan and marketing strategy for 2021 reflects the energy and excitement of being a part of the growing QuiAri family,"
stated Founder and CEO, Bob Reina.
Today, QuiAri is one of the fastest growing home-based global businesses in the direct selling industry, and in 2021 Bob is anticipating even more growth as he rolls out new branding and resources.
A New Look
QuiAri's signature purple and gold look has been updated to purple and lime green to better reflect the vibrancy and natural energy of the QuiAri brand.
Enhanced Website & Back Office
For the last 4 months QuiAri's in-house team of writers, designers, and programmers have been working on new website enhancements and a refresh of their Customer and Promoter Back Offices. Bob shared a preview of the new website and Back Office on a live broadcast several weeks ago and received rave reviews. Notable features include a new, user-friendly interface, easier navigation, and a more robust content, including more success stories, a more detailed results section and a "Discover Maqui" page that takes us on a journey through pristine Patagonian landscapes where the Maqui Berry is locally harvested. The website and Back Office are scheduled to launch in early January.
New Sample Packs
QuiAri's highly anticipated Sample Packs will be available to all Promoters in early 2021. Each Sample pack includes a single serve QuiAri Shake packet and single serve QuiAri Energy packet delivered in colorful, convenient packaging loaded with product information. Available in either chocolate or vanilla, Promoters can choose to either hand-deliver these samples to Prospects – or send through the mail for contactless sharing.
New 10-4-2 Launch Plan
Available exclusively to QuiAri Promoters, the 10-4-2 Launch Plan (coming soon) is a comprehensive guide to building teams, sharing product samples, and climbing the ranks. The concept is simple: Conversations lead to invitations. Invitations lead to sales. Get 10 people to try QuiAri product samples, 4 customers that love the product, and 2 people to join as Promoters and get active and qualified. The 10-4-2 plan is scalable with a more aggressive option of 100 (samples) 40 (customers) and 20 (Promoters) for people that choose to promote their business full-time.
New Promoter Product Packages
QuiAri's innovative product packages coming in 2021 are expected to become the new benchmark for the entire network marketing industry. With names like Bronze, Gold, Silver, and Platinum, QuiAri's ingenious packages are tailored specifically to Promoters who want to become "products of the product." Each pack includes a month supply of QuiAri Shake and Energy for personal use and up to 100 Sample Packs for sharing.
New Business Opportunity Presentation
As we all know, duplication is the key to success in this industry. To ensure the quality and consistency of each business opportunity presentation, QuiAri Founder and CEO, Bob Reina and key leaders on the executive team are in the process of creating a pre-recorded video presentation composed by a team of award-winning videographers. Once complete, the video will be translated in multiple languages. The new year brings new goals for Bob and QuiAri. He said he has plenty more surprises that will be revealed in phases throughout the year.
"With so many exciting projects near completion, I know that 2021 is going to be a big year for the QuiAri. I'm very proud of the work our teams are doing all over the world. Not even multi-billion-dollar brands can compete with the kind of positive momentum and growth we have experienced. Our goal is to continue leading the industry in 2021 and get everyone in the right mindset for success.

The Marketing Team came up with a theme that I think is spot-on: It's Simple. It's Fun. It's QuiAri. I think many companies have lost sight of the "fun" aspect of network marketing. That's what makes QuiAri different,"
stated Founder and CEO, Bob Reina.
About QuiAri
QuiAri is the #1 health and weight loss movement in the world today. Featuring exclusive, breakthrough products (QuiAri Shake and QuiAri Energy) featuring the world's new #1 superfruit, the Maqui berry, people everywhere are losing weight, boosting their energy levels, and improving their health.
What started as an idea has now become a worldwide phenomenon, gaining a passionate following in over 200 countries. But that's not all! We boast an exciting opportunity to promote QuiAri products and earn commissions within 5 minutes after each sale through industry-first, state-of-the-art payment technology. Combining unrivaled products with the fastest payout, the fastest cycling binary, and one of the highest paying compensation plans in the industry, there's no doubt QuiAri is helping people live healthier, happier lives. To learn more about QuiAri, their products and the opportunity to become a Promoter, visit https://quiari.com/en, or follow them on social media @QuiAriOfficial.
These statements have not been evaluated by the Food and Drug Administration. These products are not intended to diagnose, treat, cure or prevent any disease.
Income Disclosure Statement
Please note the QuiAri business opportunity offers unlimited income potential. However, QuiAri makes no guarantee of financial success. Success with QuiAri results only from successful sales efforts, which require hard work, diligence, skill, persistence.
Recommended Distributors QuiAri