Amy Robinson Reaches All-Star Rank With Velovita
February 17, 2021
By Team Business For Home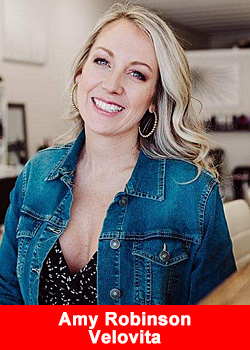 Amy Robinson is living the Entrepreneurial American dream. After spending close to two decades in corporate America, she knew a change needed to be made.
Determined in providing a more stable financial path for herself, Amy also set out to find something that would allow her to spend even more time with her family.
"I am married to my husband Matt and we have six kiddos ranging in age from 5 to 20 years old. I was in corporate insurance management for close to 20 years prior to finding MLM! 

My husband and I own and run several businesses together including a Construction company. I also co-own a Beauty Bar with my best friends!  MLM really showed me that I was an entrepreneur at heart!"
Stated Amy.
Entrepreneurs must possess a drive to succeed deep within and Amy Robinson is no exception. With over 6 years in the MLM industry she continues to grow as an entrepreneur and earn prestigious accolades. When asked what she thought has been her greatest achievement so far, Amy shared:
"Wow, this is a hard one for me because there have been so many things that I never even dreamed were possible. I would say one thing that stands out most to me is working my way to the top of the first company I ever joined.

I did that in under a year and also became a six-figure earner! It wasn't about the titles or the money for me, it was proving to myself that I was capable of achieving these massive goals that I had set for myself! While also allowing me to become a work at home mom for the first time ever! 

I am also incredibly proud that I earned a top leader position with Velovita within the first 2 months."
Now an All-Star with Velovita, Amy Robinson is not expected to slow down anytime soon. Her entrepreneurial spirit along with Velovita's proven approach to network marketing have proven to be perfect matches.
Amy states:
"The first thing that really stood out to me was the involvement of the corporate team! Velovita is the most caring company I have ever been a part of. They are open and welcoming. They truly want to see everyone succeed!"

Take the leap of faith and I know you will not regret it! Joining Velovita has been the best decision I've ever made!  When you can confidently stand behind the products, the vision of the company, and the top leadership, you know you are in the right place!"
Velovita CEO Kosta Gara shared his thoughts about Velovita All-Star Amy Robinson:
"Amy is an example of what hard work and determination can provide for others. She has always done things the right way as an entrepreneur and her achievement reflects that. We are thrilled to have Amy Robinson as part of the Velovita family!"
About Velovita
Founded on 90+ years of operational and field success, Velovita is set to become a global leader of innovation in the field of biohacking, social selling, community expansion, and support for the new world entrepreneur.
Their mission is to provide an ecosystem of inspiration, education, and life enrichment. Velovita has a singular focus on the individual to increase their daily performance both mentally and physically. For more information on Velovita, please visit Velovita.com or Velovita's Facebook page. You may also contact us at [email protected]. To join the new movement, click here for the Velovita Member Rewards. We know you'll #LOVIT!
Recommended Distributors Velovita