Esther Owoeye From The UK Is Rain's Newest Diamond
February 12, 2021
By Team Business For Home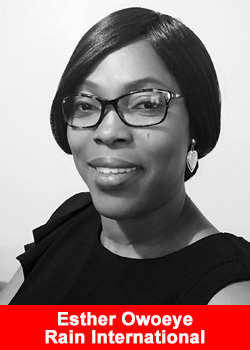 For some, the pandemic has been a tragedy. One underscored by hardship and difficulty. But, for others it was a blessing in disguise. And for Rain's newest Diamond, Esther Owoeye, the pandemic signified a time of growth, success, and massive team building.
Esther Owoeye, a UK-based Rain Partner, joined Rain back in October 2017. She was initially attracted to Rain because it could not only act as a side hustle, but it also provided incredibly powerful health products: she was a stay-at-home mom, planning on going back to work, which she did, and wanted to find an additional way to support her family. She successfully managed to balance these three areas of her life.
And then the pandemic hit. Businesses shut down, people retreated to their homes, and many employees lost their jobs. Esther watched this and realized that this was pandemic, though brutal in nature, was providing her and her team a unique opportunity. She said:
"I had more time to dedicate to managing and supporting my team. I even had some new, wonderful and woodworking people join our team from all levels and backgrounds. We kind of went on a recruiting spree. Our team doubled, our income tripled, and in the space of two weeks, I rank advanced from Sapphire Elite to Diamond Elite."
She noticed that, with this incredible influx of team members and earnings, her weekly commissions from Rain were matching her administrator salary. With some thought, she stepped away from her office job and entered the world of a full-time Rain Partner. This has provided both financial freedom and freedom of time for Esther.
We asked CEO and Founder of Rain International, what he thought about this monumental achievement. He said:
"Rain International has been incredibly lucky during this pandemic. In fact, we're among the fortunate few companies that actually grew in numbers, earnings, and influence. And we owe 100% of this growth to our Rain Partners like Esther. Her incredible ability to pivot, refocus, and work in the midst of such tragedy truly elevates her and makes her an asset that we are truly grateful for. She deserves this rank, and we can't wait to see what she does in the future."
Esther shared with us her philosophy that when her team wins, she wins. She not only checks in on her team weekly, but strives to ensure that she cares for their wellbeing. It's all about observing, listening, and learning from others. This not only helps her care more deeply for those on her team, but also allows her to pick up helpful tips and methods of operation from them.
We are incredibly impressed with Esther and her ability to succeed even during stressful times. She is living proof of two of Rain's claims: to be recession-proof, and its ability to supplement and even surpass one's salary. Esther has proven both of these statements to be extremely true. When we asked her if she had any closing remarks, she said:
"The Rain opportunity has been a life-changing experience for me. It has given me both time and financial freedom. I'm so grateful for this home business opportunity. Anyone who wishes, should just go for it." Congratulations again on your accomplishments! We can't wait to see what's next.
About Rain International
Rain International is the original creator of seed-based nutrition. Our experts have gone to the source of plant nutrition to formulate products proven to support healthy lives. Rain International is more than the products we sell.
From the beginning, we set out to make changes to improve the world around us starting with the health industry and moving beyond its borders into global sustainability, education initiatives, elevated lifestyles, and more. We believe that the ultimate human experience we all crave is within everyone's reach, and we don't mind leading the way. For more info please visit www.rainintl.com.
Recommended Distributors Rain International