Latin American MLM Leader Karla Karam Joins Velovita
February 9, 2021
By Team Business For Home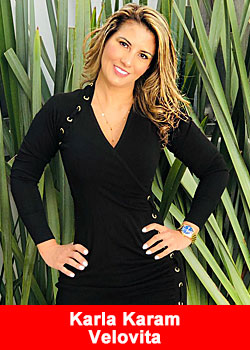 Karla Karam is already taking network marketing in Latin America to the next level. Karla, who resides in Mexico from Lebanese descent, earned her degree in Economics at an early age. Business has always been at her core. And now she has her sights set on making Velovita a household name in Mexico, throughout Latin America, and beyond.
Karla has always been a driven entrepreneur, but it has been her love for helping others that has been the main catalyst in her life.
"I've been in this industry for 12 years now. It's been a crazy ride and what I cherish the most is that I've had the privilege to build networks worldwide while meeting amazing people and turning them into lifetime friends.

I know everyone in the industry pushes the same discourse but building networks of more than 50,000 people all over the world has truly turned my life into a dream. 

Imagine your soul being filled by friendships, travelling while making money, while growing a business that changes and improves the lives of thousands of people and their families."
Said Karla.
Karla has impacted many families over the years with her entrepreneurial spirit, including her very own. Her two sons are following their mother's footsteps as fellow entrepreneurs.
Her network within Latin America continues to grow since joining Velovita. And with all the hard work she continues to do, you can expect a massive growth of potential around those countries in the coming years.
When asked why it was important for her to join a growing global company like Velovita, Karla had this to say:
"Being able to lead international growth is so important to me as the Spanish-speaking market is huge. We have teams all over the world, so we needed a new company with the global experience of its owners to be able to capitalize our previous work and experience. 

Velovita is the biggest opportunity for experienced leaders with loyal teams as it brings to the table both the opportunity of a new company and also the reputation of well trusted owners that make it a perfect match. 

With Velovita, you know the owners have your back and won't play you wrong. In an industry with so many companies, this is extremely important."
Karam is a shining example inside the industry as she's quickly becoming one of the true international leaders of the global MLM community. Alongside Velovita's growing global reach, this can be a very exciting team to follow when you assess the Latin American business communities.
Karla Stated:
"Velovita is reaching momentum, timing is what will make a difference for you. Velovita must be your number one focus, as the work and time you invest now will generate a compound effect that will forever impact your whole organization and life.
If you were looking for an opportunity where you could go all in, this is it. From amazing products that do work, to the owners and values behind Velovita that are second to none. This movement is something you can put your name and reputation on, trust me."
Velovita President Jeff Mack had this to say when asked about Karla Karam:
"Our plan to go global with Velovita is made easier knowing we have leaders like Karla in the trenches with you. She's driven by helping others and that is what we are all about, changing lives. We appreciate Karla's tireless leadership and are excited about her future with us as she takes that leadership to the global stage."
About Velovita
Founded on 90+ years of operational and field success, Velovita is set to become a global leader of innovation in the field of biohacking, social selling, community expansion, and support for the new world entrepreneur.
Their mission is to provide an ecosystem of inspiration, education, and life enrichment. Velovita has a singular focus on the individual to increase their daily performance both mentally and physically. For more information on Velovita, please visit Velovita.com or Velovita's Facebook page. You may also contact us at [email protected] To join the new movement, click here for the Velovita Member Rewards. We know you'll #LOVIT!
Recommended Distributors Velovita