LifeVantage Q2 Revenue Up 7.6% To $59 Million
February 3, 2021
By Team Business For Home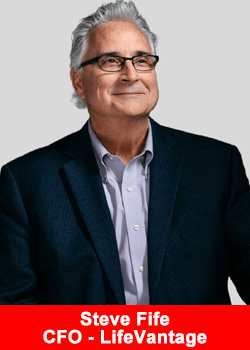 LifeVantage Corporation (Nasdaq: LFVN) today reported financial results for its second quarter ended December 31, 2020.
Second Quarter Fiscal 2021 Summary:
Revenue of $59.0 million, an increase of 7.6% sequentially and a decline of 3.6% from the prior year period;
Total active accounts increased 1.2% sequentially to 174,000, while declining 4.4% compared to the prior year period. The sequential growth included a 1.5% decline in distributors and a 2.9% increase in customers. Compared to the prior year period, distributors declined 1.5% and customers declined 6.1%;
Earnings per diluted share were $0.26, up 52.9% sequentially, and down 13.3% over the prior year period;
Adjusted earnings per diluted share were $0.25, consistent sequentially, and declined 19.4% compared to $0.31 in the prior year period;
Adjusted EBITDA was consistent sequentially and increased 12.6% to $6.7 million compared to the prior year period;
Repurchased 365,000, or $4.0 million, of common shares;
Strong balance sheet with $19.7 million of cash and no debt; and
Steven R. Fife appointed President & CEO; he has also joined the Board of Directors.
"We are proud to report continued earnings momentum with 31.6% adjusted operating income and 12.6% adjusted EBITDA growth while we saw modest declines in revenue of 3.6% compared to the prior year period, the highest quarterly revenue in the company's history and 7.6% sequential revenue growth over the first quarter of fiscal 2021.

We saw positive momentum from our virtual convention held in October which reached an estimated 20,000 participants in 18 countries. At the convention we launched limited time expanded Axio flavor offerings, featuring 6 new flavors and a new digital tool called ITT, aimed at standardizing the education and training of new customers and distributors. We saw strong adoption of the ITT system and a successful response to promotions launched in the quarter driving enrollments,"
stated LifeVantage Chief Executive Officer and Chief Financial Officer, Steve Fife.
"As we look to the second half of fiscal 2021 we are excited for the initiatives we have in place, including the timely addition of new products to our portfolio in Q3 and Q4, innovative digital tools to aid our Distributors in customer retention, and the expansion of our virtual training platforms to develop the leadership of our Distributor base.
We remain on track to meet our 2021 expectations and are confident in our business model as we continue to execute alongside the current pandemic. We are proud of the LifeVantage team and are focused on driving growth while delivering shareholder value."
About LifeVantage Corporation
LifeVantage Corporation (Nasdaq: LFVN) is a pioneer in Nutrigenomics, a new science dedicated to biohacking the human aging code. The Company engages in the identification, research, development and distribution of advanced nutraceutical dietary supplements and skin and hair care products, including its Protandim® product line, LifeVantage® Omega+ and ProBio dietary supplements, the TrueScience® line of Nrf2 infused skin care and hair care products, Petandim® for Dogs, Axio® smart energy drink mixes, and the PhysIQ™ weight management system. LifeVantage was founded in 2003 and is headquartered in Salt Lake City, Utah. For more information, visit www.lifevantage.com.
Recommended Distributors LifeVantage