MLM Leader Aboobakkar Siddik From India Joins QuiAri
March 12, 2021
By Team Business For Home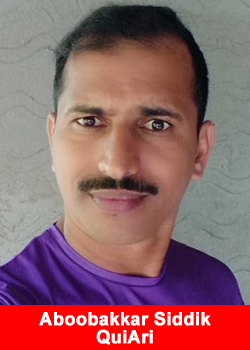 After nearly one and a half years in business, QuiAri is still making headlines across the world. Recently, the company shattered long-standing industry records by releasing a wave of new, never-before-seen enhancements that provide Promoters with new ways to build their teams and expand their reach to new markets.
From an enhanced Compensation Plan with 7 ways to earn to new Promoter Product Packages and Sample Packs, QuiAri has proven once again that they support their teams in the field in every way possible.
Aboobakkar Siddik, from Karnataka, Mangalore, India was among the first to put the new "Project Q" enhancements to the test – and he's very excited about the results.
"QuiAri has changed my life in so many ways. I started as a Customer and lost 19 pounds in 150 days with the help of QuiAri products. When my health started to improve, I felt happier, and I had a lot more energy. My mentors, Promoters Minh and Julie Ho, suggested I become a QuiAri Promoter to help put my new confidence to good use,"
stated Aboobakkar Siddiq.
After that conversation, Aboobakkar immediately joined as a full-time Promoter. He started sharing his story with others and his QuiAri business started growing. On March 1st, 2021, when QuiAri released their new enhancements, Aboobakkar followed the advice of Founder and CEO, Bob Reina, and kicked his business into high gear.
During a live event, Bob introduced the new Compensation Plan enhancements, including new Rank Advancement Bonuses, a new 7-level Matching Bonus, and a new Binary Cycle Bonus (up to $40 USD).
"I was excited about having more opportunities to earn, then Bob revealed another surprise. He showed us how to achieve these new bonuses – by following the 10.4.2 Launch Plan. Through an easy-to-follow Sample System, he provided a path to success that anyone can follow – even if they have no network marketing experience,".
Bob Reina spent decades building teams in the field before starting his own successful MLM company. Through weekly live broadcasts, Bob has been mentoring QuiAri Promoters all over the world.
"QuiAri has the #1 Compensation Plan in the industry, the #1 products in the industry with the #1 superfruit, the Maqui Berry, and Same Day Pay – that's commissions paid in just 5 minutes. Anyone that joins QuiAri is starting their business with an advantage no other company offers.

I've also packed the Compensation Plan with new incentives and bonuses for people that really want to get their business off to a fast start. For example, certain Promoter Product Packages include up to 6 months of Unlimited $500 USD Speed Bonuses. If you want to earn 60,100, or 200 Speed Bonuses – you can! There is no limit,"
stated QuiAri Founder and CEO, Bob Reina.
For Aboobakkar, his dream is to maintain his good health and reach the top rank of Purple Diamond. He feels that it could most certainly happen within the next 5 years. He recently celebrated a "Grand Opening" in Mangalore to put the new Sample System to the test. It appears to be working.
"The people of India love QuiAri products and the opportunity is making a huge difference. I've been passing out a lot of samples and encouraging everyone I meet to come join the fun. We're changing lives – one sample at a time,"
said Aboobakkar Siddik.
To learn more about QuiAri, their products and the opportunity to become a Promoter, visit https://quiari.com/en, or follow them on social media @QuiAriOfficial.
About QuiAri
QuiAri is the #1 health and weight loss movement in the world today. Featuring exclusive, breakthrough products (QuiAri Shake and QuiAri Energy) featuring the world's new #1 superfruit, the Maqui berry, people everywhere are losing weight, boosting their energy levels, and improving their health.
What started as an idea has now become a worldwide phenomenon, gaining a passionate following in over 200 countries. But that's not all! We boast an exciting opportunity to promote QuiAri products and earn commissions within 5 minutes after each sale through industry-first, state-of-the-art payment technology. Combining unrivaled products with the fastest payout, the fastest cycling binary, and one of the highest paying compensation plans in the industry, there's no doubt QuiAri is helping people live healthier, happier lives. To learn more, please visit quiari.com.
These statements have not been evaluated by the Food and Drug Administration. These products are not intended to diagnose, treat, cure or prevent any disease.
Income Disclosure Statement
Please note the QuiAri business opportunity offers unlimited income potential. However, QuiAri makes no guarantee of financial success. Success with QuiAri results only from successful sales efforts, which require hard work, diligence, skill, persistence.
Recommended Distributors QuiAri