Nina Salkic From Bosnia And Herzegovina Achieves Black Rain Diamond Rank
March 27, 2021
By Team Business For Home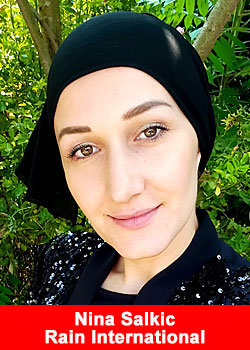 Rain International welcomes its newest Black Rain Diamond, Nina Salkic, to its ever-expanding fold.
You may remember Nina from an article written just four months back, when she hit Double Diamond Elite in the middle of this ongoing pandemic, which was impressive in and of it itself. But, now she's expanded her team, built on the momentum she's been gaining over the past year, and has now hit a rank that very few distributors in the world of Network Marketing have a chance to achieve!
We spoke with Byron Belka, Rain's CEO and Founder, specifically about Nina's achievements. He said:
"I think Nina's accomplishments and dedication come at a perfect time: people need to know that, even among the trials and hardships of our time, they can still find success if they work hard and smart enough. Nina is an inspiration, not only to those under our umbrella at Rain, but for the Network Marketing world at large.

Everyone should know, from Nina's example, that it is possible to grow a team in difficult conditions. It is possible to supplement the income of a lost job, or decreased pay elsewhere. It is possible to find freedom, even in catastrophe."
What Byron says is true: Nina provides a perfect example of someone who pushes through, regardless of environmental circumstances. She told us that she sees our current pain as inspiration, striving to turn struggle into opportunity, our difficulties into triumphs, and using this moment to introduce others to the health, financial, and emotional benefits that Rain has to offer.
We asked Nina if she has any advice for those who may be struggling to grow their business during this time. She has some many good things to say!
"After I hit Double Diamond Elite back in November, I decided that I'd do things a little differently. I started organizing my time differently by making a daily priority list. One big priority I had was to educate my leaders, and help them become independent team builders who relied less on my day-to-day help.

I also think we need to be grateful for these challenges we've been given, because it provides a stark contrast for the success we achieve. Success is mostly painful, by definition, so if you're experiencing pain, you can be confident you're on the right track."
Nina is not only a dedicated Rain Partner, a top leader in Europe, and the opener of her particular market, but a mom of four with two University Degrees. She's ready to spread Rain into countries all around her. She not only loves seed-based nutrition, but loves the chance to offer it to others, helping them unearth their own greatness.
We're excited to see what else Nina can accomplish as she continues to grow her team. I'm sure we'll be hearing from her again!
About Rain International
Rain International is the original creator of seed-based nutrition. Our experts have gone to the source of plant nutrition to formulate products proven to support healthy lives. Rain International is more than the products we sell.
From the beginning, we set out to make changes to improve the world around us starting with the health industry and moving beyond its borders into global sustainability, education initiatives, elevated lifestyles, and more. We believe that the ultimate human experience we all crave is within everyone's reach, and we don't mind leading the way. For more info please visit www.rainintl.com.
Recommended Distributors Rain International