QuiAri Launches New Bonuses, Sample Cards, Product Packages & More
March 5, 2021
By Team Business For Home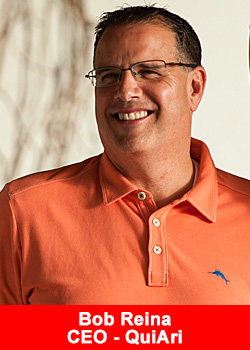 History was made Monday, March 1st, 2021 as all of QuiAri's highly anticipated "Project Q" enhancements went live. Industry experts have been talking about QuiAri and its innovative Founder and CEO, Bob Reina, for the last several months.
Ever since QuiAri's launch in October 2019, Bob has consistently shattered long-standing industry records by providing breakthrough products and a once-in-a-lifetime opportunity that keeps getting better and better.
"QuiAri is – and will always be – a company dedicated to putting people above profit. As you'll see from our new enhancements, everything is designed to help get these breakthrough products into the hands of more people around the world and rewarding Promoters that work hard and want to make a difference,"
stated QuiAri Founder and CEO, Bob Reina.
QuiAri is the first company in the industry to offer Promoters Same Day Pay, that's commissions paid in 5 minutes or less. They are also the first company to introduce the Maqui Berry, the world's new #1 superfruit, to the global marketplace.
While most companies would have stopped there, Bob felt like there was more he could do to help QuiAri Promoters grow their business. These new enhancements reflect his vision to be the next multi-billion-dollar brand.
Enhanced Compensation Plan
Featuring more incentives, like a new 7-level Matching Bonus, Rank Advancements bonuses, and more to encourage Promoters to take their teams to the next level.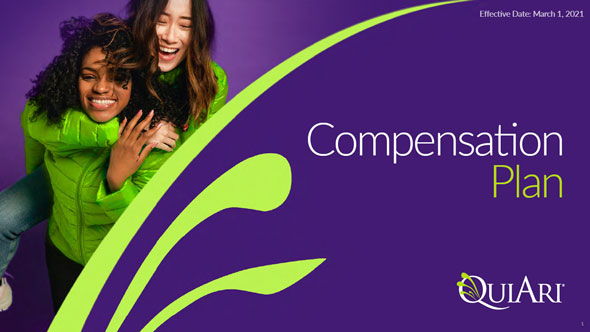 NEW Sample Packs
Each Sample pack includes a single-serve QuiAri Shake packet and single-serve QuiAri Energy delivered in colorful, convenient packaging and loaded with product information.
New 10-4-2 Launch Plan
The concept is simple: Conversations lead to invitations. Invitations lead to sales. Get 10 people to try QuiAri product samples, 4 customers that love the product, and 2 people to join as Promoters.
QuiAri's new Product Packages are tailored specifically to Promoters who want to quickly grow their business. Each pack includes a month supply of QuiAri Shake and Energy for personal use, up to 100 Sample Packs for sharing, and up to 6 months of unlimited Speed Bonuses.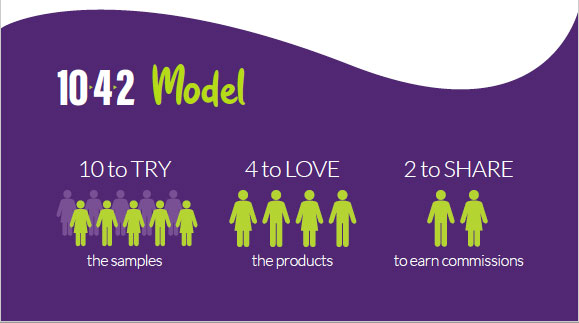 New Business Opportunity Presentation
The new Opportunity Presentation shares QuiAri's story, featuring the Maqui Berry, the science behind our products, and industry-first Same Day Pay. Presentations are hosted live in 6 different languages daily. Even though it has only been a few days, the feedback regarding Project Q has been overwhelming.
"Our Support Team has been flooded with calls and emails from people around the world. There's a lot of love for QuiAri. People are excited, and to be honest, we're thrilled to have them. However, this is only the beginning. We have more enhancements we're really excited about coming soon. The truth is – we never stop developing new ways to improve the lives of our Promoters and Customers, Just watch."
stated Founder and CEO, Bob Reina.
About QuiAri
QuiAri is the #1 health and weight loss movement in the world today. Featuring exclusive, breakthrough products (QuiAri Shake and QuiAri Energy) featuring the world's new #1 superfruit, the Maqui berry, people everywhere are losing weight, boosting their energy levels, and improving their health.
What started as an idea has now become a worldwide phenomenon, gaining a passionate following in over 200 countries. But that's not all! We boast an exciting opportunity to promote QuiAri products and earn commissions within 5 minutes after each sale through industry-first, state-of-the-art payment technology. Combining unrivaled products with the fastest payout, one of the fastest cycling binaries, and one of the highest paying compensation plans in the industry, there's no doubt QuiAri is helping people live healthier, happier lives. To learn more, please visit quiari.com.
These statements have not been evaluated by the Food and Drug Administration. These products are not intended to diagnose, treat, cure or prevent any disease.
Income Disclosure Statement
Please note the QuiAri business opportunity offers unlimited income potential. However, QuiAri makes no guarantee of financial success. Success with QuiAri results only from successful sales efforts, which require hard work, diligence, skill, persistence.
Recommended Distributors QuiAri