Juuva Announces New Muscadine Product Releases
April 23, 2021
By Team Business For Home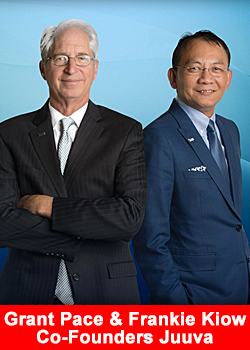 Juuva, direct marketer of life transforming products and innovator in global marketing, today announced the release of additional cutting edge and life changing products; MGETM, MfinityTM Oil, and Muscadine BoostTM.
These products add global attention getting power to their already impressive product offering.  Each product revolves around proprietary mixtures of pure Vitis Rotundifolia skins, seeds, and extracts, and represent the latest in antioxidant and super-food science, making them among the most powerful antioxidant supplements available anywhere in the world.
"The World's Best Antioxidant"
With 20 chromosome pairs, compared to only 19 in all European grapes, the Muscadine exhibits many beneficial characteristics of both grapes and berries by producing an expansive complement of phytonutrients and phenolic compounds.  Research and human clinical trials are ongoing, with an unprecedented $20Million anonymous donation dedicated to Muscadine research at Wake Forest University.  Clemson and Johns Hopkins Universities are also pursuing beneficial Muscadine research.
This is not just another product launch. It is a world class, health changing, best of class category with  powerful global implications for Juuva Customers and Distributors. We are proud for Muscadine to take its place among the many Juuva product superstars. 
Stated Frankie Kiow, Juuva Co-Founder.
is quite simply one of the most compelling nutritional supplements on the market today.  Through proprietary processes, freshly harvested Muscadines are pressed, the skins and seeds separated, preserved, and encapsulated.
Just a few capsules deliver over a hundred antioxidants and all of the phenolic super fruit benefits of Muscadine, without the fiber and sugar content.  You simply could not eat enough of any fruit or drink enough of any juice to come close to the benefits of this amazing and convenient supplement.
is one of the very few sources of natural tocotrienols, the ultra-rare members of the vitamin E family of health boosting oils. Beyond its ability to nourish the skin and erase the appearance of scars and fine lines, it is also known to interrupt the body's ability to create and store fat.  As such, MfinityTM Oil is also offered as a key element to the JuuvaFITTM fat loss and fitness system, which has already credited with over 30,000 lbs. of long-term fat loss.
an acronym for Muscadine Grape Extract, is named for its specific reference in dozens of ongoing clinical studies and other scientific research, currently led by teams at Wake Forest University.  MGETM is an ultra-efficacious polyphenolic and antioxidant concentrate.  For those that seek intense antioxidant therapeutics, each milliliter of MGE contains the health benefits of literally bushels of Muscadine super-fruit.
Powerful business building with efficacious products means absolutely everything to us in Juuva.  In my 25+ years in the industry, I have witnessed amazing results from a variety of natural products, but NONE compare to what we're seeing with our super foods. Our increased focus on specialty Muscadine products truly separates us from our competition, strengthening the Juuva opportunity in every market!
Stated Grant Pace, Co-Founder and CEO.
We simply could not be more delighted. Following recent global events, people are looking for more self-reliance by sourcing important products nearer to home.  The fact that Muscadine, the world's best is cultivated and bottled right here in the USA is a really big deal to our customers. 
Said William Andreoli, Juuva President USA/Canada
About Juuva
Already known as "the most trusted name in Network Marketing," Juuva was founded 8 years ago by Industry Icon Grant Pace, and Asia's premier Direct Sales Pioneer, Frankie Kiow.  The accomplished resumés of these leaders plus their corporate team span well over 300 years of collective industry experience.
Innovative products and a global opportunity are only the beginning – seeking to transform lives every day, this is a staunch Customer and Distributor-first company founded upon 15 cornerstone principles, which drive every decision to this day.  We invite everyone to discover, enjoy, and be transformed by the Juuva difference
Recommended Distributors Juuva