Juuva Embraces Bulavita Distributors And Select Products
April 6, 2021
By Team Business For Home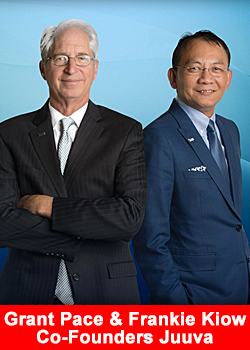 Juuva, direct marketer of life transforming products and an innovator in global marketing, today announced that select top Bulavita products will now be available exclusively from Juuva.
Juuva has incorporated ten of Bulavita's top selling products into the existing line of Juuva products. These new products represent important high growth categories including Muscadine and weight loss. These legacy products will be immediately available to all independent distributors and their customers.
" Juuva welcomes the many new Distributors and Customers loyal to these extraordinary products. The enlarged Juuva footprint will create a superior organization that is certainly more than the sum of its parts.

We excitedly anticipate accelerated sharing of Juuva's messages of wellness and prosperity, and greater international growth with a suite of exclusive products and proprietary systems."
Stated Frankie Kiow, Co- Founder of Juuva 
Founded in 2016, Bulavita is the exclusive global marketer and distributor of cutting edge and proprietary products, such as MfinityTM, Muscadine BoostTM, MGETM, as well as the products that have assisted in over 30,000 lbs. of fat loss, BulaFITTM Fuel and Burn.
"Bulavita's advanced products provide the perfect complement to Juuva's core philosophy and global    reach.  Our accomplished field leaders are the perfect addition to Juuva's rapidly growing international organization.  As the most trusted name in network marketing, Juuva is sure to become a household name around the world."
Said William Andreoli, Bulavita President
Several of Bulavita's most experienced and talented staff  have accepted Juuva corporate positions.  These individuals compliment and strengthen Juuva's corporate organization.
"We simply could not be more excited to enter this chapter of our history.  The chapter where we bring   to the fore MfinityTM the most potent forms of Muscadine, the world's best antioxidant. It is a story over four hundred years in the making.  It is time the world knew it.  To Mfinity… and beyond!"
Said Grant Pace, Juuva Co-Founder and CEO.
About Juuva
Already known as "the most trusted name in Network Marketing," Juuva was founded 8 years ago by Industry Icon Grant Pace, and Asia's premier Direct Sales Pioneer, Frankie Kiow.  The accomplished resumés of these leaders plus their corporate team span well over 300 years of collective industry experience.
Innovative products and a global opportunity are only the beginning – seeking to transform lives every day, this is a staunch Customer and Distributor-first company founded upon 15 cornerstone principles, which drive every decision to this day.  We invite everyone to discover, enjoy, and be transformed by the Juuva difference.
More information about Juuva, its global opportunity, and the powerful story of Muscadine can be found at Juuva.com.
Recommended Distributors Juuva