Luis Ocampo From Colombia Achieves Presidential Diamond At BE
April 12, 2021
By Team Business For Home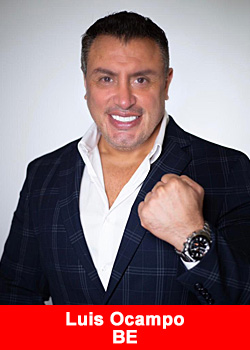 Coming from a completely different career background, Luis Ocampo, the strong-willed and results-driven entrepreneur from Bogota, Colombia, has achieved Presidential Diamond ranking in less than a year with BE.
To become a Presidential Diamond in BE, one must earn a revenue of at least $650,000 sales total in a 4-week cycle in their organization which Luis has accomplished in record-breaking time.
Long before his network marketing journey and becoming a monthly six-figure earner, Luis Ocampo ventured into multiple careers. He began working early at 12 years old, from a waiter to construction assistant to eventually getting a degree in Physical Culture and becoming a personal trainer. Grateful yet dissatisfied, Luis knew he could aim for greater opportunities.
But as the saying goes, success is where preparation and opportunity meet. At the age of 34, he entered the network marketing industry and had a massive room to expert the system. With a newfound passion and strong determination, he invested in product and trading companies granting him the adventure to travel to 17 countries worldwide and become one of the top enrollers.
Foreseeing that the business's future would flourish in the digital scene, he knew BE was his place to be after learning about the company's vision of empowering the masses with its cutting-edge digital products. Luis found himself convinced that BE would revolutionize the whole industry and was eager to be a part of it.
"When the information from BE reached me, the first thing I did with my experience was to look at the product. With their founding leadership and the projection, I immediately knew that the opportunity I was waiting for had arrived," he remarks.
With years of experience complementing the excellent company system, he achieved a whopping sales growth in just three months and became a Diamond ranker. He continued with his hard work and sincere efforts in accomplishing big milestones one after the other. He shares,
"BE has impacted my life in a great way because it is a company that solves current problems with mobile and enterprise applications, and this in itself positively impacts the lives of thousands of people since by helping many people in the world, and I have also impacted my life at an economic and growth level helping many families including my own in these times of crisis worldwide."
A support structure to climb the pillar of success is quintessential. For Luis, the Founders of BE, Moyn Islam, Monir Islam, and Ehsaan Islam were just that. Regarding them, he narrates:
"For me, Monir, Moyn, and Ehsaan, the founders of BE are coherent, visionary people with a successful process in the industry. Greatly admirable and honorable leaders."
With strong faith, Luis Ocampo believes that BE will be the top company in digital platforms and applications for its excellent services, lucrative plans, and most importantly, the genuine concern to change the world positively by providing the best opportunities to people and creating a massive impact in their lives.
Income Disclaimer: Earnings as a BE IBI are based solely upon the successful sale of products and services to customers and their usage of those products and services. IBIs will incur expenses in operating their BE Business as BE IBI License fee and other possible operating expenses. As with any business, earnings and success at BE are not guaranteed. There is no income earned from the mere act of sponsoring or recruiting others.
About BE
BE is a next-generation ecosystem made up of a unique concept of 'Live & Learn' which includes e-learning and travel platforms with a comprehensive set of tools for independent business owners.
The BE ecosystem uses artificial intelligence technology, to offer a decentralized, transparent, and empowering space for people from all walks of life, regardless of their educational or financial background, to build their very own multimillion-dollar business from their smartphone.
For more information, please visit www.berules.com
Recommended Distributors BE