Rising Star Sharla Davidson Joins QuiAri
April 2, 2021
By Team Business For Home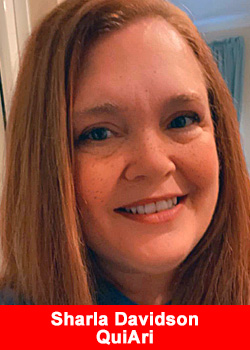 There's no doubt that QuiAri's global footprint is growing fast. With products shipping to over 200 countries worldwide, QuiAri Promoters can live in nearly any country or city and still be successful in building their business.
Sharla Davidson, from the small town of Yeaddis, Kentucky, USA has been climbing the ranks quickly and has proven that opportunity at QuiAri is not limited by geography.
"I believe I was put on this Earth to help people. I'm a Nursing Instructor in Yeaddis, and I really enjoy it. My dream has always been to help people all over the world, but I've never had a great opportunity to make it happen. So that's what I love most about being a QuiAri Promoter.

I can introduce breakthrough products to people all over the world and help them live healthier lives, all without leaving my house,"
stated QuiAri Promoter Sharla Davidson.
Sharla was introduced to QuiAri from her friend, QuiAri Promoter Patti Sutherland, who lives in Florida. Being in the health and wellness industry, Sharla is frequently introduced to new products – many that make lofty promises and rarely deliver. Something seemed different about QuiAri that made Sharla especially curious.
"Patti seemed genuinely passionate about QuiAri products. She had lost a lot of weight with the help of QuiAri and raved about her results. I received a sample in the mail right away. After the first day, I felt like I had more energy, I was more clear-headed and prepared to take on the day. Even my mood had changed. It checked every box for what I was looking for, and I knew others that would love these products, too,"
said Sharla Davidson.
Becoming a Promoter gave Sharla an opportunity to earn extra income for encouraging others to try QuiAri products. Additionally, from her nursing career, she had experience in training teams and loved the idea of earning residual income simply by inspiring others to follow her lead.
"Although I live in a small town, I have big dreams for my future. I'm well on my way to living a debt-free life, and I hope to give others that same opportunity. QuiAri is the only company in the industry that pays commissions within 5 minutes – and that also includes most bonuses. QuiAri Founder and CEO, Bob Reina, has developed a compensation plan and culture that lets Promoters determine the speed of their own success,"
said Sharla Davidson.
Bob Reina has double downed on his commitment to providing the best of the best resources to QuiAri Promoters and Customers worldwide. Less than a month ago, Bob released new features and enhancements worldwide. This included a new, state-of-the-art Promoter Portal, a 10-4-2 Launch Plan, world-class marketing, enhanced Business Opportunity Presentation in multiple languages, new product packages, enhanced compensation plan, and more.
"The culture at QuiAri is outstanding. Bob does an excellent job of making sure Promoters have everything they need for success and are recognized quickly for their achievements. Bob, and the entire Corporate Team, are very inclusive when it comes to the business. You don't feel like you're working for QuiAri. You feel like you're working with them, as a true partner."
Sharla knows that, in the next 5 years, the QuiAri brand will be known throughout the world. She's in the right place at the right time and is prepared for rapid growth. She looks forward to helping her team achieve success, all while reaching QuiAri's top rank – Purple Diamond.
"Eventually I see myself becoming a full-time QuiAri Promoter. As much as I love being a Nursing Instructor, network marketing is my dream and, as QuiAri's global reach expands, there's no telling how many lives I could change.

I love the products, the opportunity is incredible, and I have a bright future ahead. Long gone are the days when I had two jobs and struggled to make ends meet. I'm proud of how far I've come and how much I've grown as a person ever since joining QuiAri,"
said Sharla Davidson.
About QuiAri
QuiAri is the #1 health and weight loss movement in the world today. Featuring exclusive, breakthrough products (QuiAri Shake and QuiAri Energy) featuring the world's new #1 superfruit, the Maqui berry, people everywhere are losing weight, boosting their energy levels, and improving their health. What started as an idea has now become a worldwide phenomenon, gaining a passionate following in over 200 countries.
But that's not all! We boast an exciting opportunity to promote QuiAri products and earn commissions within 5 minutes after each sale through industry-first, state-of-the-art payment technology. Combining unrivaled products with the fastest payout, the fastest cycling binary, and one of the highest paying compensation plans in the industry, there's no doubt QuiAri is helping people live healthier, happier lives. To learn more, please visit quiari.com.
These statements have not been evaluated by the Food and Drug Administration. These products are not intended to diagnose, treat, cure or prevent any disease.
Income Disclosure Statement
Please note the QuiAri business opportunity offers unlimited income potential. However, QuiAri makes no guarantee of financial success. Success with QuiAri results only from successful sales efforts, which require hard work, diligence, skill, persistence.
Recommended Distributors QuiAri