ByDzyne Brings Home The Titan Business Award For International Expansion
May 27, 2021
By Team Business For Home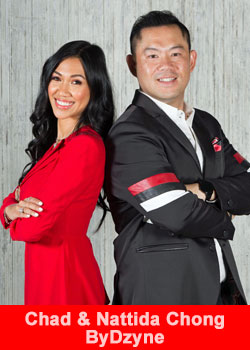 At the turn of the year, ByDzyne's founders declared that 2021 would be remembered as the company's eminent 'Year of Expansion.' Not even six months later, the momentous network marketing company is being rewarded in a big way, becoming a Titan Business Awards' official Gold Winner for its "Achievement in International Expansion."
The Titan Business Awards, in its highly-anticipated inaugural season, honors entrepreneurs, public and private organizations, and large and SMEs for their determination and excellence in improving company culture, inspiring credibility, and achieving Titan-like success in professionalism and passion.
With as many as 650 entries spanning 28 countries this year, and administered by the highly-acclaimed International Awards Associate Inc. (IAA), the Titan Business Awards is already being recognized as an industry benchmark for entrants. Other winners this year include Nestlé India, L&T Technology Services, and RADIX.
"We are so proud of this achievement and dedicate it to all of BD nation who have worked tirelessly to make ByDzyne the number one MLM company in the world. Our goal this year was to expand and bring the very best in opportunities to all four corners of the globe. This award proves just that, and the best part is we're not even halfway through the year yet,"
shared a determined Nattida Chong, co-founder of ByDzyne.
Going global has been monumental for ByDzyne. In just two years since its launch, the company is currently operating in over 102 countries, including this year's new ventures into the Philippines, Brazil, and Spain. Not only have the international efforts provided access to diversified markets and new talents, but it has also opened the door to an even greater pool of endless entrepreneurial opportunities—an innovative multi-faceted approach the company's reputation thrives on.
"Limitations don't exist here at ByDzyne. We are here to acknowledge that not one size fits all, and our lucrative business model and distinct products are formulated to fuel each specific Brand Ambassador's lifestyle, as they see fit in their specific culture. So, from the United State to South America, to Europe, or Asia, our customers and Brand Ambassadors have that 'Power of Choice' to grow and develop the business that best suits them,"
declared Chong.
While the expansion endeavors have been rightfully celebrated, the company's consistent levels of quality and service have also been an attribute to be commended during the company's impressive run of growth—the Titan Business Award joins recent accolades lauding the company's influential chairmen, website and back office, digital marketing, and professionalism in communication.
ByDzyne is clearly expanding on all fronts. With the establishment of new revenue streams and acclimation to foreign cultures and diverse markets, the company's brand recognition has never been stronger. And with six months remaining on the company's 'Year of Expansion' objective, ByDzyne may just reach the pinnacle of domestic and international success.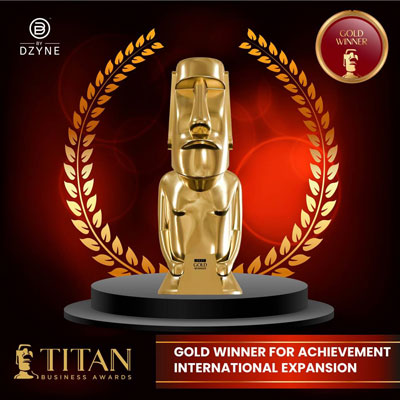 ByDzyne se lleva a casa el premio Titan Business Award
A principios de año, los fundadores de ByDzyne declararon que el año 2021 sería recordado como el eminente "Año de la Expansión" de la empresa. Ni siquiera seis meses después, la trascendental empresa de mercadeo en red ha sido recompensada a lo grande, convirtiéndose en ganadora oficial del Oro de los Titan Business Awards por su "Logro en Expansión Internacional".
Los Titan Business Awards, en su esperada temporada inaugural, premian a emprendedores, organizaciones públicas y privadas, y a empresas grandes y PYMES por su determinación y excelencia en la mejora de la cultura empresarial, inspirando credibilidad, y logrando un éxito similar al de los Titanes en cuanto a profesionalismo y pasión.
Con nada menos que 650 candidaturas de 28 países este año, y administrados por la aclamada International Awards Associate Inc. (IAA), los Premios Empresariales Titán ya están siendo reconocidos como una referencia del sector para los participantes. Otros ganadores de este año son Nestlé India, L&T Technology Services y RADIX.
"Estamos muy orgullosos de este logro y lo dedicamos a toda la nación de BD que ha trabajado incansablemente para hacer de ByDzyne la empresa MLM número uno del mundo. Nuestro objetivo este año era expandirnos y llevar las mejores oportunidades a todos los rincones del mundo. Este premio lo demuestra, y lo mejor de todo es que aún no hemos llegado a la mitad del año",
dijo una decidida Nattida Chong, cofundadora de ByDzyne.
La globalización ha sido monumental para ByDzyne. En sólo dos años desde su lanzamiento, la empresa opera actualmente en más de 102 países, incluyendo las nuevas incursiones de este año en Filipinas, Brasil y España. Los esfuerzos internacionales no sólo han proporcionado acceso a mercados diversificados y a nuevos talentos, sino que también han abierto la puerta a un conjunto aún mayor de infinitas oportunidades empresariales, un enfoque innovador y polifacético del que se nutre la reputación de la empresa.
"En ByDzyne no existen las limitaciones. Estamos aquí para reconocer que no hay una talla única para todos, y nuestro lucrativo modelo de negocio y nuestros distintos productos están formulados para alimentar el estilo de vida de cada Brand Ambassador específico, tal y como lo ven en su cultura concreta. Así, desde Estados Unidos hasta Sudamérica, Europa o Asia, nuestros clientes y embajadores de marca tienen el "poder de la decisión" para crecer y desarrollar el negocio que mejor les convenga",
declaró Chong.
Aunque los esfuerzos de expansión han sido justamente celebrados, los niveles constantes de calidad y servicio de la empresa también han sido un atributo que hay que elogiar durante la impresionante racha de crecimiento de la empresa: el premio Titan Business Award se une a los recientes galardones que elogian a los influyentes presidentes de la empresa, el sitio web y el back office, el marketing digital y la profesionalidad en la comunicación.
ByDzyne está en clara expansión en todos los frentes. Con el establecimiento de nuevas fuentes de ingresos y la aclimatación a culturas extranjeras y mercados diversos, el reconocimiento de la marca de la empresa nunca ha sido tan fuerte. Y a falta de seis meses para alcanzar el objetivo del "Año de Expansión" de la empresa, ByDzyne podría alcanzar la cima del éxito nacional e internacional.