Dhaval Ramoliya From India Achieves Blue Diamond Rank At OmegaPro
May 8, 2021
By Team Business For Home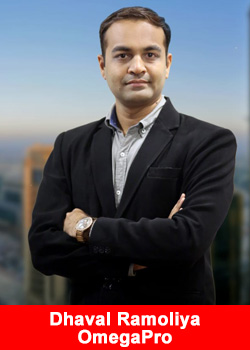 OmegaPro is proud to announce the tremendous achievements coming from India including Mr. Dhaval Ramoliya who has achieved Blue Diamond along with Mr. Hiren Dholariya who reached Black Diamond.
Dhaval Ramoliya shares thoughts on his extraordinary Blue Diamond achievement as well:
"From the very first meeting I had with OmegaPro with our founder, Mr. Dilawar Singh, I knew I was meeting one of the most genuine and straight forward individuals of my life.

His vision in creating a financial ecosystem was unique and different in every aspect.

This company is history in the making.

I have evolved from one of India's leading textile industry entrepreneurs to being a true leader, changing lives of people who connect with me, utilizing the world's most transparent and most genuine company OmegaPro.

"Leadership is the capacity to translate vision into reality"
About Omegapro
The mission of OmegaPro is to deliver a secure world class trading experience to all clients – both retail and institutional. We continually invest in new technologies and people, to provide our clients with a diverse range of trading products and exceptional trading outputs.
Moreover, we put a major emphasis on account security – we use the most advanced tools and encryption protocols and provide plentiful market liquidity to ensure your capital. Thanks to the vast market volume that OmegaPro handles and our strict risk policies, we can ensure that your account with us is secure, while connecting you to the fast paced global markets.
For more information please visit: www.omegapro.world