First-Time & Part-Timer Kelly Mai From East Asia Achieves Super Star Rank At QuiAri
May 26, 2021
By Team Business For Home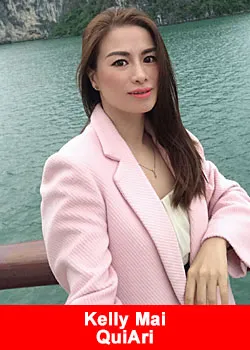 QuiAri marketing slogan may be "Come Join The Fun," but looking at the company's record-shattering global expansion, it's clear they mean serious business. Founder and CEO, Bob Reina, has assembled an executive team of MLM professionals with a combined 150+ years of experience.
Bob's decision to bring on experienced industry leaders has led to a reinvention of the onboarding process for new Promoters. While most direct sales companies focus on only increasing the size of their roster, QuiAri invests in training and development of new members, so they have a real opportunity to be successful. QuiAri Promoter, Kelly Mai from East Asia, recently joined the company with no prior MLM experience. She has advanced to the rank of Super Star – one of the highest levels in QuiAri.
"I am a successful small business owner and investor but was interested in adding another revenue stream in my spare time. My sister joined QuiAri, and I was very impressed with their breakthrough products and generous opportunity.

I joined part-time, followed the 10.4.2 Launch Plan to help grow my business, and communicated often with my upline. I'm now one of the highest-ranking Promoters in the company,"
stated Kelly Mai.
QuiAri promises their Promoters the freedom and flexibility to work their business around their own schedule. That was exactly what Kelly was looking for – a very low-risk opportunity with the potential for earning additional income with payouts in just 5 minutes. QuiAri's "Same Day Pay" is the fastest payout in the industry, and is complimented by QuiAri's mobile, which sends a "cha-ching" notification after every commission earned.
"I'm new to this industry but have fallen in love with it. I've been earning residual income while I'm sleeping. I look forward to waking up in the morning and checking for payment notifications. It motivates me to keep promoting QuiAri products," stated Kelly Mai. 
Kelly is among the many Promoters also taking QuiAri Shake and Energy – and seeing major improvements in her health. QuiAri products contain the world's new #1 superfruit, Maqui, and a proprietary Maqui extract (MaquiX®) developed by Bob Reina and Dr. Juan Hancke, the #1 Maqui scientist in the world.
"It's hard to explain, but QuiAri products make me feel happy and full of energy. In fact, I call QuiAri Energy my "happy pill." You're getting all the nutrients your body needs, so naturally, your body is working at its peak performance. I actually quit my daily coffee habit because I just don't need it anymore to stay alert," said Kelly Mai. 
Eventually, Kelly would like to work her QuiAri business full-time and spend more time with her "QuiAri family." QuiAri has a 'work hard, play hard" culture and good communication despite having Promoters and Customers literally in every corner of the world.
"My dream is to travel all over the world. It has been a passion of mine for years but finding the time to get away is difficult. The advantage of being a QuiAri Promoter being able to mix business with pleasure. I now have Promoters on my team located all over the world. I have a legitimate reason to travel to exotic places – and can make time in my schedule to immerse myself in the culture,"
said Kelly Mai.
Founder and CEO, Bob Reina, is very pleased to see Kelly thriving at QuiAri and hopes to see her at the very top rank of Purple Diamond as QuiAri crosses the threshold into a billion-dollar-brand.
"Kelly is the real deal. Her success is not beginner's luck. Anyone willing to work hard and is friendly and teachable will go far at QuiAri. She clearly has great business instincts and is doing an amazing job helping people live healthier lives, and in the process is improving her own life. I hope that more people continue to follow her lead,"
stated QuiAri Founder and CEO, Bob Reina.
Kelly's advice to new Promoters just joining QuiAri: believe in yourself and be willing to sacrifice a little bit of your free time to achieve your dream lifestyle.
"I'm busy every day, but I'm doing what I love, so it never truly feels like work. Plus, I'm creating a legacy that my family will benefit from for generations to come. I'm so glad I found QuiAri. It has changed my life,"
said QuiAri Promoter, Kelly Mai.
About QuiAri
QuiAri is the #1 health and weight loss movement in the world today. Featuring exclusive, breakthrough products (QuiAri Shake and QuiAri Energy) featuring the world's new #1 superfruit, the Maqui berry, people everywhere are losing weight, boosting their energy levels, and improving their health. What started as an idea has now become a worldwide phenomenon, gaining a passionate following in over 200 countries.
But that's not all! We boast an exciting opportunity to promote QuiAri products and earn commissions within 5 minutes after each sale through industry-first, state-of-the-art payment technology. Combining unrivaled products with the fastest payout, the fastest cycling binary, and one of the highest paying compensation plans in the industry, there's no doubt QuiAri is helping people live healthier, happier lives. To learn more, please visit quiari.com.
These statements have not been evaluated by the Food and Drug Administration. These products are not intended to diagnose, treat, cure or prevent any disease.
Income Disclosure Statement
Please note the QuiAri business opportunity offers unlimited income potential. However, QuiAri makes no guarantee of financial success. Success with QuiAri results only from successful sales efforts, which require hard work, diligence, skill, persistence.
Recommended Distributors QuiAri