LifeVantage Reports Q3 Revenue Of $51.6 Million
May 3, 2021
By Team Business For Home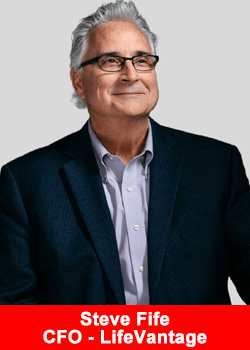 LifeVantage Corporation (Nasdaq: LFVN) today reported financial results for its third quarter ended March 31, 2021.
Third Quarter Fiscal 2021 Summary:
Revenue of $51.6 million, a decrease of 8.0% from the prior year period and a decline of 12.6% sequentially;
Total active accounts decreased 4.0% compared to the prior year period while declining 3.4% sequentially to 168,000. The year over year decline included declines in distributors of 4.5% and customers of 3.7%. Compared to the second quarter of fiscal 2021, distributors declined by 6.0% and customers declined by 1.9%;
Earnings per diluted share were $0.12, up 9.1% over the prior year period and down 53.8% sequentially;
Adjusted earnings per diluted share were $0.20, up 53.8% compared to $0.13 in the prior year period and down 20.0% sequentially;
Adjusted EBITDA decreased 5.7% to $4.8 million compared to the prior year period and decreased 28.4% sequentially;
Repurchased 213,000, or $2.0 million, of common shares; and
Strong balance sheet with $19.0 million of cash and no debt.
"While third quarter results did not meet our expectations, the strategies we've been implementing to drive improved operating performance are starting to have an impact, which we believe will drive favorable results over the next couple quarters,"
said Steve Fife, Chief Executive Officer and Chief Financial Officer of LifeVantage.
"Supply chain challenges related to COVID-19 were a factor in the third quarter, causing delays in new product launches due to raw material shortages. Despite a more challenging environment in the third quarter that resulted in an 8% decline in revenue, we still grew adjusted earnings per share by 54% to $0.20 per share compared to the prior year period.
We're very encouraged by our ongoing efforts to drive engagement and alignment across our field organization. Trends improved as the quarter progressed and recent activity by our top producers demonstrates their strong commitment to growth through a combined focus on both core competencies and new product offerings.
We remain confident in our business model and strategic direction and are well positioned to drive long-term shareholder value."
About LifeVantage Corporation
LifeVantage Corporation (Nasdaq: LFVN) is a pioneer in Nutrigenomics, a new science dedicated to biohacking the human aging code. The Company engages in the identification, research, development and distribution of advanced nutraceutical dietary supplements and skin and hair care products, including its Protandim® product line, LifeVantage® Omega+ and ProBio dietary supplements, the TrueScience® line of Nrf2 infused skin care and hair care products, Petandim® for Dogs, Axio® smart energy drink mixes, and the PhysIQ™ weight management system.
LifeVantage was founded in 2003 and is headquartered in Salt Lake City, Utah. For more information, visit www.lifevantage.com.
Recommended Distributors LifeVantage