Top Nigerian Leader Esther Uka Joins QuiAri
May 12, 2021
By Team Business For Home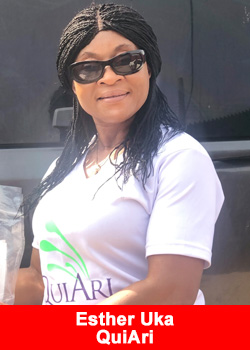 Esther Uka is a successful network marketing professional born and raised in Nigeria. She loves everything about this industry, especially the opportunity to start at the bottom and work your way up to a dream lifestyle – sometimes in just a matter of months.
"Everybody has the same opportunity to be successful in this business, but not all opportunities are created equal. I learned that lesson early on. I didn't have a great first experience in this business. There were challenges along the way, but they eventually led me to QuiAri, and for that I am eternally grateful,"
said Esther Uka.
 Esther discovered QuiAri through a friend who couldn't stop talking about how much she loved the products and opportunity.
"I've never heard any of my friends talk so highly about a company's products before. Then when she told me she gets paid in 5 minutes after each sale, I was convinced she was lying, but every word turned out to be true. This is, without a doubt, the hottest opportunity on the planet right now," said Esther Uka.
She received a sample of the products and immediately fell in love with the taste. Being a seasoned industry veteran, she has tried almost every nutritional shake and supplement on the market, and QuiAri was like no other.
"In this industry, especially when marketing nutritional products, you always seem to get one or two people that just don't care for the taste. You don't find that here at QuiAri. That's because our Founder and CEO, Bob Reina tasted over 100 different competitive shake mixes before deciding on the current blend of essential vitamins, nutrients, Greens blends, and, of course, Maqui, the world's new #1 superfruit. The end result – a shake that tastes just like ice cream. It's incredible."
 The amazing taste of the shakes and power-packed energy tablets are just the tip of the iceberg. People are experiencing real results, as seen on QuiAri's social media pages. Including their biggest success story, a Promoter in Las Vegas who has lost over 110 pounds and is still going. The success of the products have led to a once-in-a-lifetime opportunity for Promoters around the world to improve their lifestyle.
"The demand for QuiAri products have provided me and my team a real chance to see our dreams become reality. I've been doing very well and climbing the ranks quickly. The extra income has helped me pay off some bills and get closer to becoming stress-free and debt-free,"
said Esther Uka.
 Esther said she's ready to keep pushing forward and won't stop until she reaches QuiAri's top rank (Purple Diamond). Because of the vast resources QuiAri offers their Promoters, she has plenty of confidence in achieving her goal.
"You wouldn't believe how easy it is to start your QuiAri business. Immediately after joining, you are given access to a Back Office/Portal loaded with resources – Compensation Plan, Opportunity Presentation, 10.4.2 Launch Plan, and so much more all available to you 24/7. Plus, you can tap into live business presentations hosted by top leaders going on at all hours of the day. QuiAri sets you up for success every step of the way."
In looking towards the future, Esther can't wait to help QuiAri become the fastest company in history to reach their goal of becoming the next billion-dollar brand.
"I've joined QuiAri full-time, and it was 100% the correct choice. My life has completely changed. It's the most exciting – and lucrative – opportunity you'll ever experience, that's for sure. We're going straight to the Top,"
said Esther Uka.
About QuiAri
QuiAri is the #1 health and weight loss movement in the world today. Featuring exclusive, breakthrough products (QuiAri Shake and QuiAri Energy) featuring the world's new #1 superfruit, the Maqui berry, people everywhere are losing weight, boosting their energy levels, and improving their health. What started as an idea has now become a worldwide phenomenon, gaining a passionate following in over 200 countries.
But that's not all! We boast an exciting opportunity to promote QuiAri products and earn commissions within 5 minutes after each sale through industry-first, state-of-the-art payment technology. Combining unrivaled products with the fastest payout, the fastest cycling binary, and one of the highest paying compensation plans in the industry, there's no doubt QuiAri is helping people live healthier, happier lives. To learn more, please visit quiari.com.
These statements have not been evaluated by the Food and Drug Administration. These products are not intended to diagnose, treat, cure or prevent any disease.
Income Disclosure Statement
Please note the QuiAri business opportunity offers unlimited income potential. However, QuiAri makes no guarantee of financial success. Success with QuiAri results only from successful sales efforts, which require hard work, diligence, skill, persistence.
Recommended Distributors QuiAri