Popular Singer Johann Alvarez From Colombia Joins QuiAri
June 16, 2021
By Team Business For Home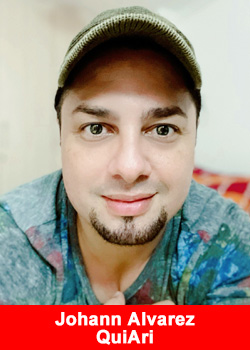 Johann Alvarez, who is originally from Colombia, has been in the business of helping people long before he joined QuiAri.
"Music is my way of connecting with people and lifting their spirits, but it doesn't help pay their bills. The MLM industry was my way of bringing an opportunity to people with in need of hope.

I recently joined QuiAri, first as a customer, because my health had slipped a little bit, and I ended up losing 56 pounds. Now I saw a way to help people on multiple levels – nutritionally and economically,"
stated Johann Alvarez.
Johann's life completely changed after discovering QuiAri. The powerful Maqui Berry, the world's new #1 superfruit, and superstar ingredient in QuiAri products, provided him with more than just weight loss and energy. Now he's feeling stronger, better, and healthier than ever before.
"I immediately joined as a Promoter once I started losing weight. It was easy – 1 shake in the morning and 1 – 2 Energy tablets throughout the day. It's nutrition you can actually feel, it's almost like your body is grateful for giving it the vitamins and minerals it craves. And I love QuiAri Energy.

I am happier, more focused, and can power through my day without feeling like I need a nap. My new mission in life is to make sure everyone has these products."
As a QuiAri Promoter, Johann has everything he needs to share QuiAri products, the opportunity, and his incredible story with the world. Immediately after joining he received free self-replicating website, a business opportunity presentation, an exclusive 10.4.2 Launch Plan, product brochures, free mobile app, and more – all in multiple languages.
"QuiAri isn't my first MLM. I've dipped in and out of the industry ever since I was 18. I've never come across an opportunity like this before. It's simple to understand, easy to duplicate, and has an incredible compensation plan. QuiAri is also the first ever to pay their Promoters commissions earned in less than 5 minutes.

You do the work. You get paid. This is the way all businesses in any industry should operate. It comes down to great leadership, which is another reason why I decided QuiAri was the right fit for me."
said Johann Alvarez.
QuiAri's Founder and CEO, Bob Reina, has assembled an executive team with over 150 years of MLM experience to help execute his vision. QuiAri was built around the basic principle of helping people live their best life and seven core values – Recognition, Excellence, Positivity, Ethics, Collaboration, and Trust. (R.E.S.P.E.C.T.)
"These core values are an important part of QuiAri. I believe in collaboration over competition. We're here to help each other increase the quality of our lives.

Johann has been a shining example of how a passion for QuiAri products can organically grow into a life-changing opportunity. The more people he helps, the larger his business grows, and the closer he gets to living his dream lifestyle,"
stated QuiAri Founder and CEO, Bob Reina.
Johann realizes that, with this opportunity, his dreams are now within reach. His business is booming, and he knows exactly how he'll use his success to benefit himself and others.
"I would love to travel the world and take my family along with me. My mission work is really important to me. Once I achieve QuiAri's top rank of Purple Diamond, I plan to build a shelter for homeless children and a nursing home for the elderly. Considering the rate that QuiAri is growing, I know I'm in the right company to make that happen,"
said Johann Alvarez.
About QuiAri
QuiAri is the #1 health and weight loss movement in the world today. Featuring exclusive, breakthrough products (QuiAri Shake and QuiAri Energy) featuring the world's new #1 superfruit, the Maqui berry, people everywhere are losing weight, boosting their energy levels, and improving their health. What started as an idea has now become a worldwide phenomenon, gaining a passionate following in over 200 countries.
But that's not all! We boast an exciting opportunity to promote QuiAri products and earn commissions within 5 minutes after each sale through industry-first, state-of-the-art payment technology. Combining unrivaled products with the fastest payout, the fastest cycling binary, and one of the highest paying compensation plans in the industry, there's no doubt QuiAri is helping people live healthier, happier lives. To learn more, please visit quiari.com.
These statements have not been evaluated by the Food and Drug Administration. These products are not intended to diagnose, treat, cure or prevent any disease.
Income Disclosure Statement
Please note the QuiAri business opportunity offers unlimited income potential. However, QuiAri makes no guarantee of financial success. Success with QuiAri results only from successful sales efforts, which require hard work, diligence, skill, persistence.
Recommended Distributors QuiAri