10,000+ People Joined Plexus Shine Convention
July 13, 2021
By Team Business For Home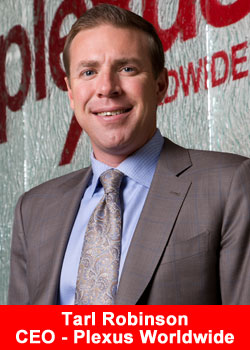 Plexus Worldwide (Plexus®), one of the largest direct-selling health and wellness companies in the world, launched a new product and trained thousands of independent sales representatives during the Plexus 2021 Shine Convention, held June 25-26. Plexus' annual Convention was held virtually and featured guests from cities across the U.S. and around the world.
"At Plexus, we know our Ambassadors want to define their own success and future. The Plexus 2021 Shine Convention was focused on shining a light on health and happiness with our One Plexus community,"
said Alec Clark, Founder and President of Plexus Worldwide.
"It's the pinnacle event of the year where thousands of Plexus Ambassadors come together to connect, to re-charge, and to imagine their potential."
More than 10,000 independent business owners, known as Plexus Ambassadors, participated in the two-day event that featured an informative and fun-filled lineup of workshops, panels, and presentations designed to educate and inspire them to grow their home-based businesses.
Keynote speakers and trainers included Claire Babineaux-Fontenot, CEO of Feeding America, Michelle Poler, founder and author of Hello Fears, Mariana Atencio, award-winning journalist and co-founder of multimedia company GoLike and Lisa Nichols, founder and CEO of Motivating the Masses, Inc.
"Convention is truly one of the highlights for our Ambassadors as they gain personal and professional training and hear from other Ambassadors and experts, while also allowing us the opportunity to recognize, thank, and reward them for their talents and efforts throughout the year,"
said Tarl Robinson, Founder and CEO of Plexus.
"With Convention being virtual again this year, many Plexus Ambassadors hosted viewing parties for their teams, where people gathered safely to feel a sense of the One Plexus community."
Among the new science-based products launched this year were Hydrate in the US and Australia, and HydroPlex in Canada.  This performance mix is intended to help people replenish their electrolytes to support their physical stamina.
In addition, Robinson and Clark announced this year's One Plexus winners, Brianne Coolidge of Wellsboro, Pennsylvania and Melissa Eickenhorst of Conroe, Texas.  This prestigious award honors Plexus Ambassadors who take extraordinary measures to support peers, give back to their local community, and empower others to make the world a better place.
Plexus also recognized Ambassadors that advanced to the next level as part of the Jewel leadership group. These leaders earned their success through hard work, commitment, and leadership, and are incredible examples of building a legacy to be proud of.
Plexus, a privately held company, was established 13-years ago in Arizona, has more than 400 employees at its Scottsdale headquarters, which consists of a 73,000 square foot office building and 28,000 square foot warehouse. Plexus Worldwide has more than 700,000 Ambassadors and customers worldwide.
In 2020, Plexus grew the number of Ambassadors receiving monthly income by 23% vs. 2019 and the number of unique check earners increased by 37% vs. 2019. For more information about us visit www.plexusworldwide.com.*
About Plexus Worldwide:
Plexus Worldwide, LLC, is a leading health and happiness company featuring health and wellness products that enable people to improve their lives and well-being.
With hundreds of thousands of independent business owners ("Ambassadors") worldwide, Plexus is among the top 30 largest direct sales companies globally according to Direct Selling News. The combination of Plexus products and opportunities help individuals to meet their health-wellness and financial goals. For more information about us visit www.plexusworldwide.com.